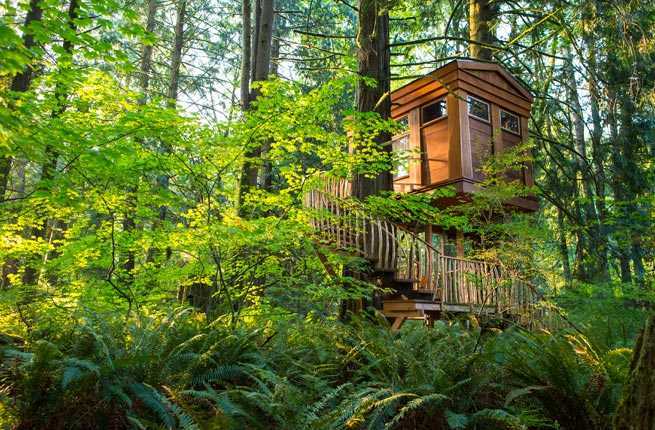 If you've ever wanted to take your love of the great outdoors to new heights, get ready to climb up to the canopy and sleep in one of these amazing treetop hotels. Feats of contemporary engineering, these contemporary tree houses are certain to astound, with amenities ranging from Jacuzzis and fireplaces to the perfect chance to stargaze from bed. If you want to feel like a kid again, you'll find that these one-of-a-kind properties let you relive the magic of childhood memories while appealing to your grown-up tastes. No matter what season, these incredible tree-house hotels offer lodging experiences you won't soon forget.
By Zachary Laks
TreeHouse Point
WHERE: Issaquah, Washington
Less than a half hour outside of Seattle, six cabins in the trees comprise TreeHouse Point, an adults-only retreat for those looking to connect with nature. While the comforts of heat, electricity, and a plush bed in the cabins suffice, there is an element of "roughing it," as none of the cabins have bathroom facilities. The grounds share one bathhouse with toilets and showers for all guests, akin to a campground. The cabins vary in size and design, but expect well-outfitted interiors filled with antique furniture and fun accents on the walls. With its short supply of cabins and high demand, be sure to plan more than a year in advance for your stay.
PLAN YOUR TRIP: Visit Fodor's Seattle Travel Guide
Courtesy of Cedar Creek Treehouse
Cedar Creek Treehouse
WHERE: Ashford, Washington
Ascend five stories above the forest floor to the Cedar Creek Treehouse, where you'll enjoy breathtaking views. Completed in 1982 by Bill Compher as a home for his wife and baby daughter, the Treehouse has been operating as a one-room hotel since 1995. The cottage is perched on a 250-year-old Western Red Cedar and incorporates the tree's trunks and branches throughout the rooms. Untethered views of Mount Rainier and the surrounding green backwoods delight, along with the recently added wooden-plank Rainbow Bridge to the Observatory, a 360-degree viewing platform raised 100 feet high.
PLAN YOUR TRIP: Visit Fodor's Washington Travel Guide
Courtesy of Wheatleigh Hotel
The Aviary at Wheatleigh Hotel
WHERE: Lenox, Massachusetts
Luxury meets nature-chic at The Aviary, Wheatleigh Hotel's top-of-the-line, two-story treetop suite. Formerly an aviary, this design-forward hideaway has been retrofitted to feature expansive windows, a custom-built winding staircase, and a disarming antique soaking tub. Take the time to descend from the treetops and make use of the resort's expansive 22 acres, where no stay is complete without a visit to the immaculate wine cellar and the picture-perfect pool. Come summer, Wheatleigh hosts a weekly Wednesday night barbecue, serving a high-end al fresco experience with grilled lobster, day boat scallops, and swordfish.
PLAN YOUR TRIP: Visit Fodor's Berkshires Travel Guide
Courtesy of Winvian Farm
The Treehouse at Winvian Farm
WHERE: Litchfield Hills, Connecticut
You won't soon forget a night in the Treehouse at Winvian Farm, one of the eighteen unique cottages on the 113-acre property in the Litchfield Hills of Connecticut. A stay in the Treehouse starts with an ascent up the color-canopied staircase to the main entrance, 35 feet from the forest floor. With two floors, the cottage features a king-size bed and sofa pullout, along with luxurious amenities including two fireplaces, a steam shower, and a Jacuzzi. With a full bar on site as well, a night in the 780-square-foot property makes for the perfect celebratory toast.
PLAN YOUR TRIP: Visit Fodor's Connecticut Travel Guide
Courtesy of Out'n'About Treehouses
Out'n'About Treehouse Treesort
WHERE: Cave Junction, Oregon
There's a commonality at the Out'n'About Treehouse Treesort that creates fast friends among the nightly tenants of its twelve world-class tree houses: All guests have waited for this night for upward of a year—the furthest advance booking allowed. Each tree house is unique and sparingly decorated with a rustic, camping feel, and the Treesort is modeled as a bed and breakfast with the events and scope of a resort. With plenty of activities to fill the day, from horseback riding to an extensive zip-line course, you'll want to make sure to carve some time out to marvel at the structures suspended in the trees or sit back in your high post and take in the view.
PLAN YOUR TRIP: Visit Fodor's Oregon Travel Guide
Kodiak Greenwood
Post Ranch Inn
WHERE: Big Sur, California
The luxurious touches of Post Ranch Inn rise to meet the elevation of the property's seven tree houses in a delightful manner. Suites floating in the sky come standard with a bottle of wine, salted caramels, fresh granola bars, and local cheeses, perfectly paired with the ultimate lounging on a private deck with sweeping views of the California coast. With a skylight over the bed for nighttime stargazing, binoculars, and walking sticks in each suite, connecting with nature is a seamless experience accentuated by the comforts of modern luxury.
PLAN YOUR TRIP: Visit Fodor's Monterey Bay Travel Guide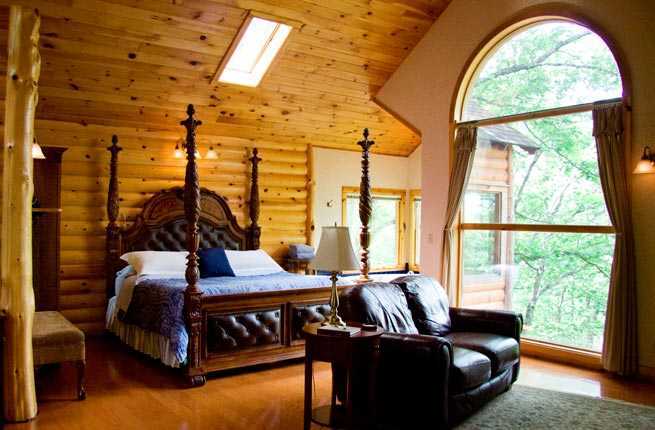 Courtesy of Treehouse Cottages
Treehouse Cottages
WHERE: Eureka Springs, Arkansas
Spanning two locations and offering seven tree houses in total, Treehouse Cottages has been making dreams come true with canopy living since 1991. Married couple Terry and Patsy Miller have worked tirelessly to construct high-flying properties that provide the modern luxuries of a fine lodge in the serenity of the treetops. Terry, a master builder, designed and built each cottage by hand, while Patsy infused the interiors with her own artistry, complete with handmade tiles and pottery. Air conditioning comes standard, as numerous cottages feature floor-to-ceiling windows, a welcome relief to enjoy the high-up view while beating the heat of Arkansas summers.
PLAN YOUR TRIP: Visit Fodor's Arkansas Travel Guide
Courtesy of Missouri Treehouse Cabins
Missouri Treehouse Cabins
WHERE: Dora, Missouri
Eight tree houses hover over the Missouri Ozarks, attracting families throughout the region to the Missouri Treehouse Cabins for a weekend of country excursions and fun. The tree houses range in size, with two (The River Lighthouse and Mountain Log Lookout) impressively spanning 1,200 square feet, a modern engineering feat. The River Lighthouse is the newest addition to the group, with two private bedrooms, a covered deck for relaxing to the babble of the North Fork River below, and two whirlpool tubs perfect for a soak after a long day's hike. Located on the River of Life Farm, the tree houses are a favorite lodging option for the region's choice fly-fishing.
PLAN YOUR TRIP: Visit Fodor's Missouri Travel Guide
Courtesy of A Teton Tree House
A Teton Tree House
WHERE: Jackson Hole, Wyoming
An extension of Jackson Hole's nature-driven culture, A Teton Tree House is a destination bed and breakfast with just six rooms in an elevated inn. Retirees Denny and Sally Becker (former wilderness guide and professor) have found their calling welcoming guests to their sliver of paradise in the trees. Starting the day with a health-conscious breakfast of fresh breads and hot cereal, the Beckers delight in sharing their knowledge of the area's many wilderness activities, including bird watching, nearby horseback riding, and whitewater rafting. All six rooms have private bathrooms and feature fun touches of backwoods luxury like white-sound machines, robes, and chocolates.
PLAN YOUR TRIP: Visit Fodor's Jackson Hole and Northwest Wyoming Travel Guide
Courtesy of Tropical Treehouse
Tropical Treehouse
WHERE: Rincón, Puerto Rico
Leave your passport behind but don't forget your sense of adventure for a stay at Tropical Treehouse in Rincon. Three tree houses dot the twelve-acre tropical forest, an oasis of tranquility a mile and a half from the western Atlantic coast. Completely open to the elements, the bamboo structures forego walls, relying on the privacy provided by the branches and leaves of the surrounding forest. Not for the faint of heart, steep ladders, rail-less stairways, and treetop walkways make every aspect of staying at the complex an adventure.
PLAN YOUR TRIP: Visit Fodor's Rincón and the Porta del Sol Travel Guide