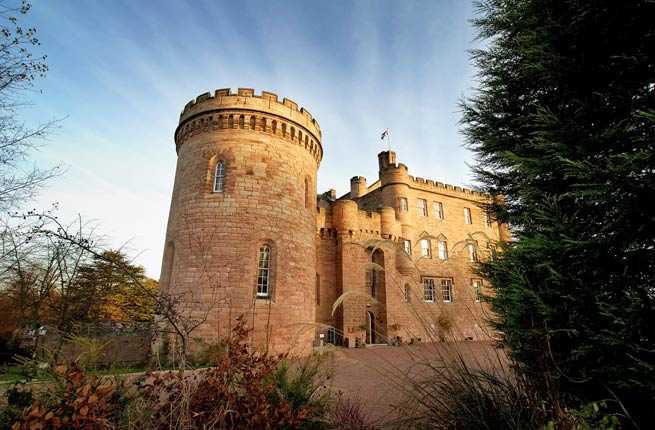 Courtesy of Dalhousie Castle & Spa
Castles require a lot of upkeep: Just ask Queen Elizabeth, who's currently looking at an $83 million bill for long-needed repairs to Buckingham Palace and Windsor Castle. Yet while Her Majesty can afford to foot the bill, other château owners have wised up and have opened their properties to guests. Far from being drafty old fortresses, these hotels have modern amenities while still maintaining their unique histories. Best of all, a stay in one of these castles won't cost you a king's ransom.
by Deb Hopewell
WHERE: Sainte-Enimie, France
Tucked into a crook of the steep Tarn River gorge, Chateau de la Caze is a gorgeous castle built in the 15th century as a honeymoon home for a French noblewoman. Some of the best rooms are on the top floor, where you can walk out onto the terrace to view the river below and bathe in a circular turret, complete with arrow slits. Tapestries, antiques, and artwork adorn the rooms and halls. Weather permitting, dine at the top-notch terrace restaurant, with its views of the river on one side and the impressive cliffs on the other (doubles from $185).
Insider Tip: Take a drive 35 miles southwest to the stunning Millau Viaduct, the tallest bridge in the world and considered one of the greatest engineering feats of all time. In nearby Roquefort-sur-Soulzon, visit one of the half-dozen or so caves where this famous blue cheese is aged.
PLAN YOUR TRIP: Visit Fodor's France Guide
Courtesy of Dalhousie Castle & Spa
WHERE: Edinburgh, Scotland
Set among lovely grounds overlooking the River Esk, the main part of this redstone castle was built in 1450, and you can still see openings in the parapets from where defenders poured boiling oil on intruders. Dalhousie's wood-paneled library is a popular gathering spot before dining in the castle's more formal restaurant, set in the centuries-old, barrel-vaulted dungeon. For an extra dose of atmosphere, treat yourself to a themed room, including one that houses the castle's 500-year-old well (double from $210, includes breakfast).
Insider Tip: If you really want to feel like lord of the manor, try the hotel's falconry experience ($140). Observe owls, Harris hawks, and buzzards in flight before they land on your gloved hand; you'll even get to handle one of their eagles.
PLAN YOUR TRIP: Visit Fodor's Edinburgh Guide
Courtesy of Castel Pergine
WHERE: Trentino, Italy
Perched high on a hill in the rugged western Dolomites, with dramatic views of the upper Sugana Valley and Lake Caldonazzo, Castel Pergine is about as close as you can get to an authentic medieval castle experience. Built in the 13th century on an important Roman road, the castle appears much like it did hundreds of years ago. Rooms are modest but comfortable—and even cheaper if you choose one with a bathroom down the hall. Dinner in its well-regarded restaurant is not to be missed (double with bathroom from $165, includes breakfast).
Insider Tip: The Dolomites are renowned for winter skiing, but it's also a wonderland of outdoor activities in the warmer months. Hiking is one of the most popular activities, but you can also arrange a bike or horseback tour. Mix with the locals on market days: Wednesday, Thursday, and Saturday.
PLAN YOUR TRIP: Visit Fodor's Dolomites Guide
Courtesy of Secret Retreats
WHERE: Dausa, India
Talabgaon, set in the rural heart of Rajasthan, was built as a fort in 1818 and is owned by the same family today. Inside its gleaming white walls, the intricately ornate interior of the castle recalls the area's past as the "land of kings." Rooms are spacious and airy, and if you spend a bit more for a Heritage Room, you'll have access to a traditional Rajasthani enclosed balcony (called a jharokha) overlooking the garden. The pool is perfect place to soak up the tranquility of the grounds and gardens, or for a little more excitement, catch a match at the hotel's polo grounds (doubles from $145).
Insider Tip: Book a Jeep safari to Ranthambore National Park, one of the best places in India to see tigers. The hotel can also organize a camel safari or horse ride through the surrounding countryside.
PLAN YOUR TRIP: Visit Fodor's India Guide
Courtesy of Schloss Kapfenstein Hotel
WHERE: Kapfenstein, Austria
This family owned-and-run castle, built atop an extinct volcano with sweeping views of the vineyards of southern Styria (near the borders of Hungary and Slovenia), dates back to the 11th century. Each of the bright, airy rooms—contained within a fortress originally built to keep out the invading Huns and Turks—is individually named and distinctively decorated in local rustic style. Most have great views of the family's vineyards and the village below. Don't miss an opportunity to sit on the outdoor terrace while enjoying a glass of the Winkler-Hermaden family-made wine (doubles from $97, includes breakfast).
Insider Tip: For a fantastic taste of hearty Austrian cuisine, go no farther than the Schloss Kapfenstein's own restaurant. With an emphasis on traditional fare and locally sourced products, they offer a daily four- to six-course gourmet dinner (along with the family wines) that can include such dishes as cream of pumpkin soup, sirloin of young Styrian beef, or Kapfenstein pumpkinseed dumplings in elderberry sauce.
PLAN YOUR TRIP: Visit Fodor's Austria Guide
By GFreihalter [CC-BY-SA-3.0], via Wikimedia Commons
WHERE: Oropesa, Spain
This impressive square fortress, built in 1402, is not only one of the oldest of the 93 Spanish paradors; it was also the very first, opened as a hotel in 1930. (Paradors are structures of historical note that the government has been running as hotels for the past 85 years in order to pay for their restoration and upkeep.) The rooms at Parador de Oropesa, located in the palace, are spacious, and it's worth paying a little more for those that have views of the valley, nearby village, and Gredos mountains in the distance (doubles from $147).
Insider Tip: Make the trip to nearby Talavera de la Reina to see its famous colorful pottery, which has been made here since Roman times. Tiles from Talavera adorn buildings all over the world, including Paris, Tokyo, and New Orleans.
PLAN YOUR TRIP: Visit Fodor's Spain Guide
Courtesy of Markree Castle
WHERE: Collooney, Sligo County, Ireland
The Markree Castle you see today dates back to 1802, though its history starts centuries before that. Now operated by the 10th generation of the Cooper family, this massive five-story mansion is nestled on 500 acres of surrounding green parkland. The guest rooms feature antique furniture and modern bathrooms, and all rooms overlook the grounds. Wander around and find one of the fireside spots that suits you, including a library that once held 50,000 tomes (double from $165, includes breakfast).
Insider Tip: For a uniquely peaceful way to tour the estate and wildlife, rent a paddleboard and head down the Ballysadare River, and you'll eventually end up at at the bay. If you're feeling more daring, head to nearby Sligo, the surfing capital of Ireland, where you can sign up for lessons at one of the surf schools.
PLAN YOUR TRIP: Visit Fodor's Ireland Guide
WHERE: Burgoberbach, Germany
If you're looking to explore the walled villages around this area of Bavaria, this 14th-century castle is a perfect base. Technically, it's not even a hotel, but home of the gracious Dr. Manfred Baron von Crailsheim, who grew up here and delights in sharing it with guests. This small, renovated castle offers comfortable self-catering apartments and guest rooms, as well as common areas where you can soak up the Old World charm (double from $195, three-night minimum stay).
Insider Tip: Car (and history) buffs might want to ask the baron for a look at his antique automobile collection, which includes a 1905 Cadillac, 1913 Ford Tin Lizzy (painted dark blue, not black—especially rare!), and 1926 Durant Rugby Tourer.
PLAN YOUR TRIP: Visit Fodor's Germany Guide
Courtesy of Castello Ripa d'Orcia
WHERE: Castiglione d'Orcia, Italy
It takes a little extra effort to get to this 13th-century, family-owned castle, set on a hilltop that requires a dusty three-mile drive off of the main road. But once inside the thick walls that encircle the castle and former village, you'll be rewarded with comfort, solitude, and sweeping views of the vineyard and olive orchards that the Piccolomini family owns and operates. The Piccolominis, who've owned the property since the 1400s, live in the castle proper, while the rustic-but-comfy guest rooms and self-catering apartments are in the adjacent village buildings (double from $160, includes breakfast).
Insider Tip: Letting rooms and apartments is only part of the family business. They also produce extra-virgin olive oil and the sought-after vinsanto, a delicious desert wine made from the area's white grapes, both of which you can buy on-site.
PLAN YOUR TRIP: Visit Fodor's Italy Guide
WHERE: Wittem, Netherlands
This castle, occupying nearly eight acres of parkland in the beautiful hill country of South Limburg, was probably first built a thousand years ago, though most of what you see now was built about 300 years ago. When you arrive, the owners will greet you with a glass of Champagne (or a drink of your choice) before showing you to your charming (but modern) room. If you fancy a splurge, book the Tower Room, which dates back to the 11th century (doubles from $125).
Insider Tip: Rent bicycles to explore the area, including the historic cities of Maastricht, Aachen, and Liège. In the nearby village of Margraten, you can also tour the 65-acre Netherlands American Cemetery and Memorial, the only American military cemetery in the Netherlands.
PLAN YOUR TRIP: Visit Fodor's Netherlands Guide