Courtesy of Omni Mount Washington Resort
Porches have a way of adding that homey touch to hotels, and they're an ideal spot to sit and soak up the view, preferably while leaning back in an Adirondack chair with a drink in hand. These 10 American hotels all have great porches, but what makes them unique is their size—some are humble, but we've also included the hotel with the longest porch in the world. All have unique views, ranging from the city center to beaches and lakes, that serve as wonderful backdrops for relaxation time on your vacation.
by Christina Valhouli
© Jeffrey Stevensen
WHERE: Maine
The Chebeague Island Inn has no phones or televisions in guest rooms, so visitors should be prepared to spend plenty of time relaxing on the 100-foot wraparound porch (bring a book or two). The Inn is located on an island in Maine's Casco Bay, just 10 miles off the coast of Portland. The Greek Revival structure has just 21 guest rooms, and all are decorated differently. Apart from sipping cocktails and enjoying the views of Mt. Washington, guests can spend their time kayaking, strolling on the beach, or cycling around the island.
Insider Tip: Chebeague is the largest island in Casco Bay, and clocks in at 3 1/2 miles long and 1 1/2 miles wide. Its name means "isle of many springs" and it is pronounced "shuh-Beeg."
PLAN YOUR TRIP: Visit Fodor's Maine Guide
Michael G Smith/Shutterstock
WHERE: Mackinac Island, Michigan
The Grand Hotel debuted in 1887, and has multiple claims to fame. Movies have been filmed there, five presidents have visited, and more than 6,500 pounds of pecans are used every year by the kitchen staff. The hotel's porch, at 660 feet, claims to be the world's longest. It's home to plenty of rocking chairs as well as 2,500 geraniums.
Insider Tip: Looking to get around Mackinac Island? Be prepared to get creative. Cars are banned, so horse and carriage or bicycle are the preferred modes of transport.
PLAN YOUR TRIP: Visit Fodor's Michigan Guide
Courtesy of The Carolina Inn
WHERE: Chapel Hill, North Carolina
The historic Carolina Inn, built in 1924, is located on the University of North Carolina's campus and is a member of the Historic Hotels of America. The Inn has long been a genteel gathering place for students, faculty, and the community, and many of these gatherings have happened on its expansive front porch and lawn.
Insider Tip: The hotel is rumored to be haunted by the spirit of Dr. William Jacocks who lived at the hotel for 17 years. Some claim he locks guests out of their rooms.
PLAN YOUR TRIP: Visit Fodor's Chapel Hill Guide
Courtesy of Mountainview Grand Resort
Mountain View Grand Resort
WHERE: Whitefield, New Hampshire
Located near Mt. Washington, this sprawling Victorian hotel ticks every box for a charmingly old-fashioned stay, complete with a white porch, campfire for making s'mores, and board games in the parlor. The Mountain View Grand Resort dates back to 1865 and has hosted presidents, movie stars, and New England writers including Ralph Waldo Emerson. The huge property is also home to a working farm, where guests can help gather eggs that are sent to the hotel's kitchen.
Insider Tip: Visitors who want to see Mt. Washington have plenty of options to reach the summit, the highest in Northeast. Hike, drive, or take a biodiesel steam train along a cog railway.
PLAN YOUR TRIP: Visit Fodor's New Hampshire Guide
DNC Parks & Resorts at Yosemite
WHERE: Yosemite National Park, California
The Wawona Hotel offers a little slice of New England tucked inside Yosemite National Park, thanks to its white-painted buildings and wrap-around porches. The hotel consists of multiple buildings, all with old-fashioned charm. None of the guest rooms have telephones or televisions. The main building has a Victorian parlor, complete with a fireplace, board games, and nightly pianist.
Insider Tip: Don't miss Yosemite's Mariposa Grove of Giant Sequoias, featuring one of the largest trees in the world, the Grizzly Giant sequoia.
PLAN YOUR TRIP: Visit Fodor's Yosemite Guide
Courtesy of Otesaga Resort Hotel
WHERE: Cooperstown, New York
The Otesaga sits on a prime lakefront location along the shores of Otsego Lake and is celebrating its 105th anniversary this year. The hotel was built in the Federal style, and one of its signature features is its 180-foot colonnaded veranda. The porch has plenty of rocking chairs for relaxing and soaking up the views of the lake or the Leatherstocking Golf Course. When the weather is nice, dinner and dancing also take place on the veranda.
Insider Tip: Pop into the nearby Ommegang Brewery, a Belgian-style brewery located on a 135-acre former hop farm. The brewery hosts tasting, tours, events, and concerts, and also has Game of Thrones-themed beers.
PLAN YOUR TRIP: Visit Fodor's Cooperstown Guide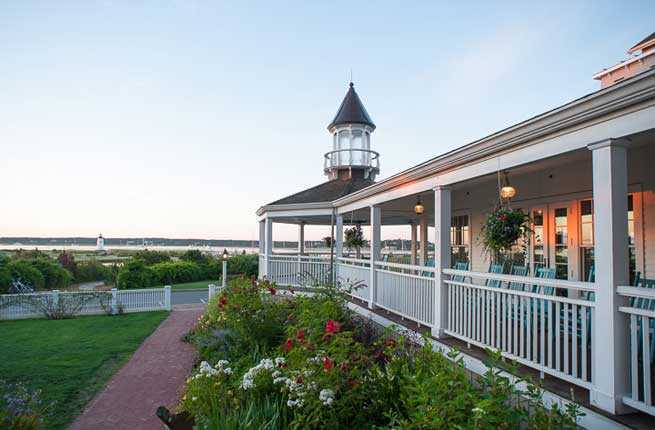 Alison Shaw Photography LLC
WHERE: Martha's Vineyard, Massachusetts
The Harbor View Hotel opened in 1891 and is arguably the grande dame of Martha's Vineyard. Located in Edgartown, the hotel features guest rooms in the main historic building as well as multiple cottages. The wrap-around porch is a prime spot for taking in views of Edgartown Lighthouse, Lighthouse Beach, and Chappaquiddick Island. While kicking back in a rocking chair, guests can order "island-to-table" cuisine from the hotel's restaurants, such as mussels in a curry broth or fresh lobster served with black rice polenta.
Insider Tip: Martha's Vineyard is hopping with events this August, including the Grand Illumination Night in Oak Bluffs, scheduled for Aug. 20. Oak Bluffs' gingerbread-style cottages will be lit by colorful lanterns, and concerts will be held on the Tabernacle.
PLAN YOUR TRIP: Visit Fodor's Martha's Vineyard Guide
Courtesy of Omni Mount Washington Resort
Omni Mount Washington Resort
WHERE: Bretton Woods, New Hampshire
Guests can admire views of Mount Washington, Crawford Notch, and the Rosebrook-Willey Range from the 900-foot colonnaded veranda here. The Omni Mount Washington has 200 guest rooms and offers a mind-boggling amount of activities, from golf and zip-lining, to fly-fishing and rock-wall climbing. There's also a 25,000-square-foot spa.
Insider Tip: Don't miss The Cave, a prohibition-era speakeasy located on the lower-level of the Omni. Be sure to order The Prohibition, a blend of French-pressed Russian Earl Grey Tea, Bailey's Irish Cream, and a splash of whiskey served in a signature speakeasy tea cup.
PLAN YOUR TRIP: Visit Fodor's Bretton Woods Guide
Courtesy of Basin Harbor Club
WHERE: Lake Champlain, Vermont
Think of the Basin Harbor Club as a summer camp experience for the whole family, but with added luxury. The resort is located on the shores of Lake Champlain, so guests will spend plenty of time on the water, either water-skiing, paddleboarding, or learning to sail. Although most guests will be staying at one of the cottages dotted around the property, the main lodge has a long porch with views of the lake and plenty of chairs for relaxing.
Insider Tip: Don't miss the Lake Champlain Maritime Museum, which showcases the area's maritime history and is home to a fleet of replica vessels.
PLAN YOUR TRIP: Visit Fodor's Lake Champlain Guide
Courtesy of John Rutledge House Inn
WHERE: Charleston, South Carolina
Stroll around Charleston and you'll see that many of the grand homes have impressive porches, but one hotel with its own impressive porch is the historic John Rutledge House Inn, which was once owned by a signer of the Constitution. The inn's 19 rooms are spread over the main house and two carriage homes, and feature antiques, four-poster beds, and marble fireplaces. The porch overlooks Broad Street, with views of St Michael's Episcopal Church.
Insider Tip: When George Washington visited Charleston in 1789 he stayed at the John Rutledge House and went to church at St. Michael's.
PLAN YOUR TRIP: Visit Fodor's Charleston Guide