Erik Kabik
Whether you're looking to admire the city skyline or marvel at nature, mega Ferris wheels around the globe pair incredible sights with thrills for all ages. We've compiled the most incredible, neck-craning observation wheels in the world, from a wheel with origins that date back to 1897 to the world's tallest, at 51 stories.—Zachary Laks
Yuryz | Dreamstime.com
Big O
WHERE: Tokyo, Japan
A feat of modern engineering, Tokyo Dome City's Big O was the world's first hubless Ferris wheel, a Guinness World Record achievement in 2006, and remains the world's largest with a diameter of 200 feet. Thunder Dolphin, Tokyo's largest roller coaster, dashes through the hubless center of the ferris wheel at speeds up to 81 miles per hour. Glass-walled pods fitted with touch screens offer music playlists (predominantly in Japanese) as the ascent provides excellent views of the theme park, the Tokyo Dome, and the bustling city streets below.
Starletdarlene | Dreamstime.com
Mickey's Fun Wheel
WHERE: Disney California Adventure Park
As the centerpiece of Disney California Adventure's Paradise Pier, Mickey's Fun Wheel is the rare Ferris wheel that offers a thrilling twist to the standard revolution. Modeled after Deno's Wonder Wheel in Coney Island, Mickey's Fun Wheel is an eccentric wheel with 16 of its 24 gondolas set on interior tracks that allow the gondolas to slide inward and outward as the wheel rotates. For those looking for a more predictable journey, the eight fixed-position gondolas guarantee the best views at the top of the 160-foot peak.
PLAN YOUR TRIP: Visit Fodor's Los Angeles Travel Guide
Typhoonski | Dreamstime.com
Eye of the Emirates
WHERE: Sharjah, United Arab Emirates
A short 20-minute trip from Dubai up the Persian Gulf coast, the Eye of the Emirates is a highlight of wonder at Al Qasba amusement park, extending nearly 200 feet above the Al Khan Lagoon. Set among a development filled with restaurants and carnival attractions, the Eye's enclosed cabins offer an air-conditioned respite from the desert heat as the wheel travels along at a brisk clip. Expect unrivaled views of the Gulf, impressive skyscrapers, and Dubai in the distance.
PLAN YOUR TRIP: Visit Fodor's Dubai Guide
Jeffrey Yates
Melbourne Star
WHERE: Docklands, Melbourne
A modern marvel that emerged after nearly a decade of retooling and reworking, the Melbourne Star is billed as the southern hemisphere's only giant observation wheel. Set in the Waterfront City area of Melbourne, the original Star was unveiled in 2008 and operated for 40 days before structural defects forced the attraction to shut down. The new and improved wheel opened in 2013, standing 393 feet high, with 21 air-conditioned glass cabins that provide uninterrupted 360-degree views of Melbourne. Highlights include views of the Docklands precinct, Port Phillip Bay, and on a clear day, sights as far as Arthur's Seat and the Dandenong Ranges.
PLAN YOUR TRIP: Visit Fodor's Melbourne Guide
Navy Pier, Inc.
Centennial Wheel
WHERE: Chicago, Illinois
Chicago's new and improved Centennial Wheel stands 200 feet over Navy Pier. With vast improvements in its new model, including temperature-controlled gondolas, the wheel can now accommodate 180 more riders per revolution. Since it's the same model as the Hong Kong Observation Wheel that opened in 2014, Cenntenial Wheel is built to withstand typhoon winds—up to 115 miles per hour—as Chicago's lakefront winter weather can be harsh.
PLAN YOUR TRIP: Visit Fodor's Chicago Guide
HEP Five
WHERE: Osaka, Japan
A geometric spectacle set in Osaka's central Hankyu Entertainment Park (HEP Five) shopping mall, HEP Five Wheel is the center of attention. Set on the roof of the megaplex, the top of the wheel measures almost 350 feet from the ground, offering impeccable views of downtown Osaka, the Osaka Harbor, and Mount Ikoma in the distance. Operating since 1998, the wheel features an impressive 52 cabins that can hold four people at a time on the 15-minute ride.
PLAN YOUR TRIP: Visit Fodor's Osaka Guide
Yelo34 | Dreamstime.com
Niagara SkyWheel
WHERE: Niagara Falls
To fully appreciate the span and scope of Niagara Falls, you're going to have to ascend to a higher vantage point. Completed in 2006, the Niagara SkyWheel made its first revolution on Clifton Hill—the Canadian side—standing 175 feet over the nearby falls. Offering prime views of Niagara, the SkyWheel provides a top thrill as its 42 enclosed cars take passengers on a 12- to 15-minute ride.
PLAN YOUR TRIP: Visit Fodor's Niagara Falls Guide
Yashkru | Dreamstime.com
Hong Kong Observation Wheel
WHERE: Hong Kong
Hong Kong's new signature attraction on the Central harborfront, Hong Kong Observation Wheel has made a distinct mark on the Hong Kong skyline since its unveiling in 2014. Adding to the long list of man-made structures that offer incredible views of the teeming metropolis, the Wheel adds a refined thrill and well-placed vantage point for alternative views of the city's harbor and skyscrapers. Standing nearly 197 feet tall, the wheel has 42 climate-controlled gondolas with free Wi-Fi for on-the-spot research on the city sights.
PLAN YOUR TRIP: Visit Fodor's Hong Kong Guide
Halie Cousineau / Fodor's Travel
London Eye
WHERE: London, England
A trendsetter and leader in innovation when it was unveiled in 2000, the London Eye remains a must on any visit to London. Step into the high-tech floating bubbles looming 443 feet over the Thames River for a 30-minute trip at speeds of about 0.6 miles per hour. The United Kingdom's most popular paid tourist attraction, the Eye has 32 capsules that can accommodate up to 25 riders each.
PLAN YOUR TRIP: Visit Fodor's London Guide
Merlin Entertainments
Orlando Eye
WHERE: Orlando, Florida
A towering observation wheel that arrived in Orlando in the spring of 2015, the Orlando Eye is among the world's newest and sleekest Ferris wheels. Standing at a staggering 400 feet high, the mega wheel is the anchor attraction of Orlando's newest commercial development, I-Drive 360. Thirty air-conditioned capsules dot the perimeter of the massive wheel, lauded as the first observation wheel to feature a suspended ski lift capsule design. Riders should expect stellar views of the local parks, Orlando's skyline, and visibility as far as Cape Canaveral on the Atlantic coast.
PLAN YOUR TRIP: Visit Fodor's Orlando Guide
Singapore Flyer
Singapore Flyer
WHERE: Singapore
The world's second-tallest Ferris wheel, standing 541 feet high—just 9 feet shy of Las Vegas's High Roller—the Singapore Flyer broke records in 2008 as necks craned to take in its gigantic proportions. Completing one revolution in 30 minutes, the Flyer's 28 capsules are mounted on the outer rim of the structure, providing 360-degree views of downtown Singapore. Initially unveiled as a wheel that spun counterclockwise, the structure was reversed to rotate clockwise in its first year on the advice of feng shui masters.
PLAN YOUR TRIP: Visit Fodor's Singapore Guide
Edbob1 | Dreamstime.com
Seattle Great Wheel
WHERE: Seattle
Perched at the end of Seattle's Pier 57, the Seattle Great Wheel opened in 2012, topping out at 175 feet above the Puget Sound. Forty-two gondolas fill the perimeter of the wheel with a capacity for eight riders at a time, with a ride time that varies from 12 to 20 minutes. Every ride is three full revolutions of the Great Wheel, so you'll have plenty of time to take in the sights of Seattle while a narration of Seattle's waterfront history gives context to the view.
PLAN YOUR TRIP: Visit Fodor's Seattle Guide
William87 | Dreamstime.com
Wiener Riesenrad
WHERE: Leopoldstadt, Vienna
With distinct red gondolas, Wiener Riesenrad Ferris wheel is one of Vienna's most popular. Although the history of the wheel dates back to 1897, the current version was rebuilt after it was damaged in World War II, downsizing from 30 cabins to its current 15. Standing at 212 feet, Wiener Riesenrad's Old World charm is the main draw at Prater amusement park in Leopoldstadt.
PLAN YOUR TRIP: Visit Fodor's Vienna Guide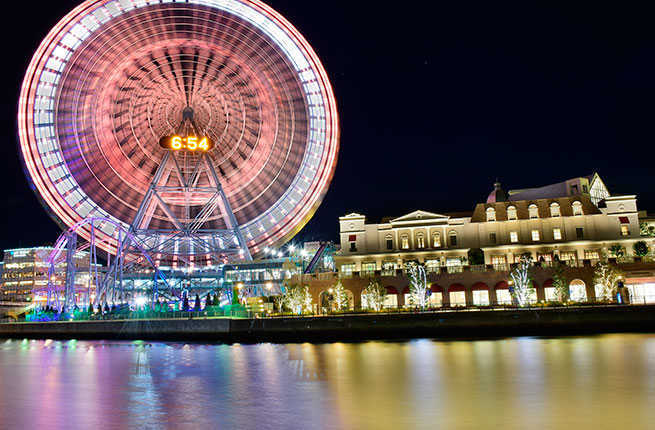 Shubhashish5 | Dreamstime.com
Cosmo Clock 21
WHERE: Yokohama, Japan
Originally designed and built for the YES '89 Yokohama Exposition at Minato Mirai 21 in 1989, Cosmo Clock 21 now stands on a new base, restructured in 1999, adding 16 feet to its height. Best appreciated at night with its stunningly lit structure, the wheel can carry 480 people in its 60 passenger cars, with each car allowing up to eight people. The 15-minute trip is a great primer for a day in Yokohama city, with superb views of the Landmark Tower and Yokohama Bay. On a clear day, riders can glimpse Shinjuku skyscrapers, the Boso peninsula, and even Mt. Fuji.
PLAN YOUR TRIP: Visit Fodor's Japan Guide
Erik Kabik
High Roller
WHERE: Las Vegas, Nevada
The 550-foot tall High Roller at The LINQ hotel is the world's tallest Ferris wheel. The focal point of the LINQ's open-air shopping and dining district, the mammoth wheel carries 28 40-person cabins that feature new-age spherical roller bearings, providing a level rotation on the 30-minute ride around the giant circumference. Opt for the High Roller at night, when the neon glitz of Vegas goes full tilt, and the wheel's state-of-the-art 2,000-LED system dazzles.
PLAN YOUR TRIP: Visit Fodor's Las Vegas Guide