Jose Antonio de Pablo
Fashion Week takes over New York City, London, Paris, and Milan twice a year, but you can celebrate sartorial splendor year-round at the world's best fashion-focused museums. These temples of couture showcase one-of-a kind pieces created by the most influential designers in history. With a stunning selection of shoes in Milan and the world's largest collection of bags in Amsterdam, these museums prove that fashion is not only a way of life—it's also an art.
by Laura Itzkowitz
© Metropolitan Museum of Art 2014, Photography by Wilson Santiago
Costume Institute at the Met
WHERE: New York City
The Costume Institute at the Metropolitan Museum of Art houses more than 35,000 costumes and accessories, spanning from the 15th century to the present. At the forefront of the fashion world since the 1970s, when Diana Vreeland curated the special exhibits, it continues to push boundaries with shows like the 2011 Alexander McQueen retrospective—the most-visited Costume Institute exhibition ever. After a two-year renovation—and a rebirth as the Anna Wintour Costume Center—it reopened to the public in May. Its annual gala unites celebrities and designers for the party of the year.
PLAN YOUR TRIP: Visit Fodor's New York City Guide
© 2014 Guglielmo de' Micheli
Museo Salvatore Ferragamo
WHERE: Florence
For shoe lovers, the Museo Salvatore Ferragamo is a must-see. Housed in the 13th-century Palazzo Spini Feroni, which has been the home of the Ferragamo workshop since 1938, the museum draws on the storied fashion house's archives. Here you can ogle the stilettos and ballet flats Ferragamo designed for Marilyn Monroe, Audrey Hepburn, and Greta Garbo, among countless others.
PLAN YOUR TRIP: Visit Fodor's Florence Guide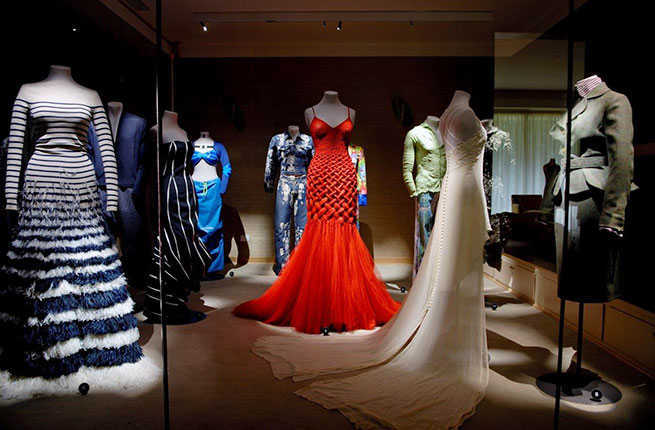 Jose Antonio de Pablo
WHERE: Santiago, Chile
Founded in 1999, the Museo de la Moda originally focused on clothing from the 1950s and '60s. Over the years, however, acquisitions have increased the collection, which now spans several centuries and continents, with a particular emphasis on sportswear. The museum itself is a sight to behold—it's located in the former home of the Yarur Bascuñán family, built in the Modernist style between 1960 and 1962. Don't miss Marilyn Monroe's red dress and John Lennon's military jacket.
PLAN YOUR TRIP: Visit Fodor's Santiago Guide
Mbzt [CC BY 3.0], via Wikimedia Commons
PALAIS GALLIERA, MUSEE DE LA MODE
WHERE: Paris
In 1879, the Duchesse de Galliera commissioned the construction of this Beaux-Arts palace—with Ionic columns and steel by Gustave Eiffel—in the chic 16th arrondissement. Originally envisioned as a place to showcase her art collection, the museum was designed with galleries surrounding an inner courtyard. The lavish architecture is eclipsed only by the collection of 100,000 costumes housed within—originally part of the Musée Carnavalet's collection. Be sure to check the Palais Galliera's calendar, as it's only open for special exhibits.
PLAN YOUR TRIP: Visit Fodor's Paris Guide
TaniaLerro / Shutterstock
WHERE: Milan
It's fitting that one of the world's most important design capitals would have a fashion museum as lavish as the Palazzo Morando. The Renaissance palace was home to Milanese noble families until 1945, when Countess Lydia Caprara Morando Bolognini donated it to the city. In 2010, the Castello Sforzesco's costume collection was moved to Palazzo Morando and combined with the former Museum of Milan's collection, creating one very chic museum.
PLAN YOUR TRIP: Visit Fodor's Milan Guide
Thomas Barrat / Shutterstock
WHERE: London
London's Victoria & Albert Museum—known simply as the V&A—contains an exhaustive collection of costumes and applied arts from all over the world. Be sure to see the samurai armor in the Asian galleries and admire medieval love rings and pendants that Queen Elizabeth I gave to her courtiers. You can trace the evolution of style in the Fashion Galleries, which juxtapose 17th-century gowns with contemporary ones. If the vast size of the museum is too overwhelming, take a one-hour tour to get acquainted.
PLAN YOUR TRIP: Visit Fodor's London Guide
Ronald Stoops/MoMu – Fashion Museum Antwerp
WHERE: Antwerp
ModeMuseum's impressive collection boasts 25,000 pieces, with 7,000 new additions from some of the most influential designers working today. The museum stands as a testament to the innovations of Belgian designers like Raf Simons, Haider Ackermann, and Ann Demeulemeester. The current exhibit MoMu Now (up through March 2015) showcases some of Simons' silhouettes for Dior, plus recently added couture pieces by other contemporary designers.
PLAN YOUR TRIP: Visit Fodor's Antwerp Guide
Peter Wintersteller/abimages
Fashion Institute of Design and Merchandising
WHERE: Los Angeles
In 1969, Tonian Hoberg founded the Fashion Institute of Design & Manufacturing in Downtown L.A. Faculty and staff raided their own closets to create the collection, and founding donor Betsy Bloomingdale made a generous donation of French haute couture. FIDM eventually expanded to four campuses (in L.A., San Francisco, Orange County, and San Diego). Special exhibits are free to the public, and showcase everything from folk dress to Hollywood costumes.
PLAN YOUR TRIP: Visit Fodor's Los Angeles Guide
Daderot, via Wikimedia Commons
Bunka Gakuen Costume Museum
WHERE: Tokyo
Part of the Bunka Fashion College, which has produced some of Japan's most influential designers (Kenzo Takada and Yohji Yamamoto, to name two), the Bunka Gakuen Costume Museum is among Japan's best fashion museums. Here you can see a wealth of gorgeous kimonos, Western-style Japanese clothing, European dress, and ethnic clothes from Southeast Asia and beyond. Four exhibits a year aim to educate the public about Japanese culture through the art of dress.
PLAN YOUR TRIP: Visit Fodor's Tokyo Guide
Courtesy of Tassenmuseum Hendrikje
WHERE: Amsterdam
The Tassenmuseum (Museum of Bags and Purses) started as the collection of one woman, Hendrikje Ivo, and grew into the world's foremost bag collection. Situated in a 17th-century canal house, the purses on display actually predate the building. Check out the 16th-century man purse with 18 secret compartments, and the 18th-century silk bridal purse from Limoges. The modern collection includes bags by all the big names—Hermès, Louis Vuitton, Chanel, Dior, Burberry, Prada, Gucci, Fendi, Bottega Veneta, and more.
PLAN YOUR TRIP: Visit Fodor's Amsterdam Guide