Starwood Hotels & Resorts Worldwide, Inc.
Most hotel amenities focus on pampering, with luxurious spa-treatments, world-class dining, and high-end shopping right on the property. Some hotels, however, include a little culture with their comforts via exquisite art collections. These top properties could double as museums, guests flanking a Dali in the lobby, or sharing a room with a Renaissance-era fresco. Here's where art-enthusiasts can expect to experience dazzling works on display.
By Kathleen Squires
Christian Horan/Four Seasons Hotels & Resorts
Four Seasons Toronto, Canada
WHERE: Toronto, Canada
The Four Seasons Toronto, the flagship for the Toronto-born Four Seasons brand, showcases a contemporary art collection with a heavy leaning toward Canadian creatives. Shane Wilson, from British Columbia, expresses the country's wilderness with moose antler sculptures, for example, and Alberta artist Attila Richard Lukacs depicts trees with oil and tar. Portraits of iconic celebrities by LA-based street artist Mr. Brainwash decorate the Café Boulud restaurant.
PLAN YOUR TRIP: Visit Fodor's Toronto Guide
Courtesy of The Ritz-Carlton, Millenia Singapore
Ritz-Carlton Milenia, Singapore
WHERE: Milenia, Singapore
With 4,200 pieces on display, this luxury lodging is in the running for world's largest hotel art collection. The Ritz-Carlton Milenia has works by Frank Stella, Henry Moore, David Hockney, and Elsworth Kelly highlighting the mind-blowing array. Ask the concierge for an iPod to take a podcast tour the property, revealing details on works such as Stella's "Cornucopia," a three-ton roof sculpture.
PLAN YOUR TRIP: Visit Fodor's Singapore Guide
Peter Vitale/Four Seasons Hotels & Resorts
Four Seasons Florence, Italy
WHERE: Florence, Italy
In the city where Michelangelo created many masterpieces, this palatial hotel was once home to Pope Leo XI. At The Four Seasons Florence you'll see dazzling frescos by Giovanni Stradano in the courtyard, in the chapel, on the staircases, and in the grand suites, all dating to the 16th century. The reliefs in the lobby recreate mythological tales, and were painted by Bertoldo di Giovanni, once an instructor to Michelangelo.
PLAN YOUR TRIP: Visit Fodor's Florence Guide
WHERE: Las Vegas, USA
Dale Chihuly's blown glass sculpture has become synonymous with this grand casino hotel. The Bellagio Las Vegas's gallery also holds the foremost art collection in Las Vegas, and is currently hosting "Warhol Out West," a retrospective of the pop artist's work, through January 2, 2014. And guess whose paintings adorn The Picasso restaurant?
PLAN YOUR TRIP: Visit Fodor's Las Vegas Guide
GLINTstudios courtesy of 21c Museum Hotels
WHERE: Louisville, KY; Cincinnati, OH, Bentonville, AR
Free and open to the public, this trio of hotels doubles as the only museums that strictly feature art of the 21st century through rotating exhibits. Upcoming shows include screen-printed concert posters (Cincinnati); portrait photography from around the world (Louisville); and a parade of brightly-colored penguin sculptures at each.
PLAN YOUR TRIP: Visit Fodor's Kentucky or Cincinnati guides
Courtesy of Ellerman House
Ellerman House, Cape Town, South Africa
WHERE: Cape Town, South Africa
One of the world's largest gatherings of South African art resides at the gallery within the Ellerman House hotel. The works, covering more than a century, span from Thomas William Bowler's breathtaking 19th-century landscape oils to Strijdom van der Merwe's contemporary Steel Gate sculpture.
PLAN YOUR TRIP: Visit Fodor's Cape Town Guide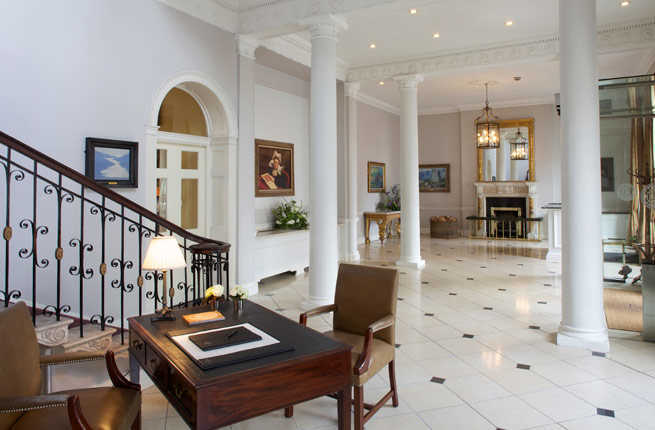 Courtesy of The Merrion
Merrion Hotel, Dublin, Ireland
WHERE: Dublin, Ireland
If you didn't know that William Butler Yeats had a younger brother, the Merrion Hotel Dublin is where you could find out: the paintings of Jack Butler Yeats, and many other Irish artists, such as Mainie Jellet, adorn the walls here. The hotel even has an art historian on staff to give private tours of the collection.
PLAN YOUR TRIP: Visit Fodor's Dublin Guide
Courtesy of El Fenn, Marrakech
El Fenn, Marrakesh, Morocco
WHERE: Marrakesh, Morocco
British collector and gallery owner Vanessa Branson—yes, the sister of Richard—shares her love of Arabic culture at El Fenn, with photos of 1960s Morocco by Terence Donovan to portraits by Hassan Hajjaj. Works by some of her compatriots are included, too, such as ink studies by Anthony Gormley. Branson's trove formed the basis of the Marrakesh Biennial.
PLAN YOUR TRIP: Visit Fodor's Marrakesh Guide
Courtesy of Yes! Hotels
New Hotel, Athens, Greece
WHERE: Athens, Greece
Owned by the tycoon Dakis Joannou, one of the world's foremost contemporary art collectors, the New Hotel claims to be a "piece of living art" in itself. The interior is designed by Brazilian artists Humberto and Fernando Campana, while works by Jack Pierson, Laurie Anderson, and Jenny Holzer line the corridors.
PLAN YOUR TRIP: Visit Fodor's Athens Guide
Small Luxury Hotels of the WorldTM
Hotel Eclat, Beijing, China
WHERE: Beijing, China
There's a piece of art for each of the 100 rooms at this brand-new hotel, opened in spring 2013. And Hotel Eclat Beijing is the place for enthusiasts of the surrealist movement, as it houses the largest collection of Dali outside of Europe. Other works include prominent local artists, such as Gao Xiao Wu.
PLAN YOUR TRIP: Visit Fodor's Beijing Guide
Courtesy of Gramercy Park Hotel, New York
Gramercy Park Hotel, NY, USA
WHERE: New York City, NY
The constantly-rotating variety at the Gramercy Park Hotel focuses on contemporary American artists. When this Jazz Age-era hotel was renovated in 2006, the owner's personal art collection went on display, drawing art aficionados to its collection of bold and Bohemian works by the likes of Andy Warhol, Jean-Michel Basquiat, and Keith Haring.
PLAN YOUR TRIP: Visit Fodor's New York City Guide
Starwood Hotels & Resorts Worldwide, Inc.
Le Meridien, Taipei, Taiwan
WHERE: Taipei, Taiwan
Even the details are art-centric at Le Meridien Taipei, down to the room key cards, designed by local hero Michael Lin. But the real pieces de resistance from the 500 works in-house are a pair of Ju Ming sculptures, valued at nearly $1.4 million, and a mobile made of 10,000 Swarovski crystals.
PLAN YOUR TRIP: Visit Fodor's Taipei Guide
Courtesy of Dolder Hotel AG
Dolder Grand, Zurich, Switzerland
WHERE: Zurich, Switzerland
Dali, Murakami, Miro, and Magritte are just a few of the boldface names from the Dolder Grand's 124-piece collection. Guests can borrow an iPad from reception, which includes an app with a map to tour the works and learn more about the artists.
PLAN YOUR TRIP: Visit Fodor's Zurich Guide