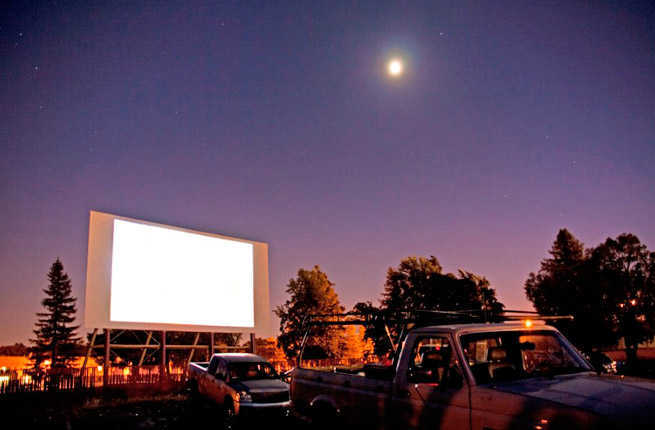 Courtesy of Drive-In Movie Theaters
Drive-in theaters conjure up sepia-toned images of vintage cars and nights spent under the stars, and while many old-school properties have transitioned over the years, adding high-tech features and larger screens, many remain true to their 1950s roots. Even today. moviegoers can still tune into a double feature on an FM radio and munch on popcorn while enjoying a screening of the latest films. Whether you're catching a back-to-back showings at a late-night theater in Baltimore or taking in a movie under the stars in Dearborn, these spots will take you back to a simpler time. Here are our picks for America's best drive-in theaters.
by Emily Wasserman
WHERE: Baltimore, Maryland
Moviegoers will feel like they've stepped into a time machine at Bengies Drive-In. The Baltimore theater opened in 1956 and still retains much of its historic charm. Visitors can tune into films using an FM or AM radio and take in multiple features on a giant, 6,240-square-foot screen.
Insider Tip: Make sure to arrive at twilight; films start at sunset, and continue running into the wee hours of the night.
PLAN YOUR TRIP: Visit Fodor's Baltimore Guide
Where: Dearborn, Michigan
Located outside Detroit, Ford Drive-In boasts the title of "largest drive-in in the world"—and for good reason. The 1950s-era theater features five screens and a 3,000-car capacity. Moviegoers can catch two films for the price of one, and tune in using a car radio or mounted speakers.
Insider Tip: If you want a break from the film, look upward; Michigan skies are known for their meteor showers, and it's not uncommon to spot a shooting star or two.
PLAN YOUR TRIP: Visit Fodor's Detroit Guide
WHERE: Pueblo, Colorado
For a scenic setting and a friendly atmosphere, stop by Pueblo, Colorado's Mesa Drive-In. The theater opened in 1951 with a single screen, but added two more screens in 2001 to celebrate its 50th anniversary. Moviegoers can call ahead for snacks and pick them up at a concession stand window.
Insider Tip: Plan on getting to the theater early during the summer months and weekends, as spots sell out fast.
PLAN YOUR TRIP: Visit Fodor's South Central Colorado Guide
Courtesy of Harvest Moon Twin Drive-in Theatre
Where: Gibson City, Illinois
A retro neon sign greets moviegoers at Gibson City's Harvest Moon Drive-In. Located 30 miles north of Champaign, the 59-year-old theater recently underwent an extensive makeover, adding new digital screens and projection booths with HD technology.
Insider Tip: Despite the recent innovations, Harvest Moon still retains many of its original features. Moviegoers can barbeque on an outdoor grill before the show starts and listen to the film through portable FM radios.
PLAN YOUR TRIP: Visit Fodor's Illinois Guide
John Bedics
Where: Walnutport, Pennsylvania
When it comes to drive-ins theaters, few top Becky's in Walnutport, Pennsylvania. The brainchild of cine-photographer and projectionist William D. Beck (also known as
"Becky"), the drive-in opened in 1945 and still delights moviegoers with its pastoral setting and family-friendly atmosphere. Visitors can take pony rides before the show or snack on pierogies and funnel cake at the theater's concession stand.
Insider Tip: Tune into the movie through your car's FM stereo, or rent a radio at the projection booth if you want to enjoy the film outside your vehicle.
PLAN YOUR TRIP: Visit Fodor's Pennsylvania Guide
Where: Warwick, New York
Step back in time at New York's Warwick Drive-In. Slides announce the movie showing and intermission, and guests can catch a double feature from lawn chairs or the comfort of their vehicle.
Insider Tip: The 11-acre property fills up quickly, so make sure you arrive early to secure your spot under the stars.
PLAN YOUR TRIP: Visit Fodor's Hudson Valley Guide
Courtesy of Corral Drive In Theater, Pizzeria and Grill
Where: Guymon, Oklahoma
Part RV park, part drive-in movie theater, Corral offers a unique movie-going experience and a decidedly vintage vibe. Classic vehicles placed throughout the parking area create a 1950s atmosphere and the showing begins with a screening of retro cartoons.
Insider Tip: Children can play on huge balloon slides before the movie, but lights go out once the film hits the screen.
PLAN YOUR TRIP: Visit Fodor's Oklahoma Guide
Courtesy of Starlight Drive-In Theatre
Where: Atlanta, Georgia
Tailgating is the name of the game at Atlanta's Starlight Six Drive-In. The hilltop theater features six-screens, and grillers with coolers and card tables usually occupy the parking lot. Moviegoers get two films for the price of one, and visitors can tune into the film through an FM transmitter or battery-operated stereo.
Insider Tip: Stop by the theater during Labor Day weekend for special screening of B-films, live music and a hot-rod show.
PLAN YOUR TRIP: Visit Fodor's Atlanta Guide
West Wind Solano Twin Drive-In
Where: Concord, California
Catch a film under the palm trees at West Wind Solano Twin Drive-In. Located in San Francisco's East Bay, the theater boasts vintage signage and 96-foot-wide screens that screen double features. Visitors can snack on Mexican-themed concessions like tacos or burritos, and watch the film from lawn chairs or the car.
Insider Tip: Make sure to bring blankets and coats; the bay breezes make the theater chilly at night.
PLAN YOUR TRIP: Visit Fodor's Bay Area Guide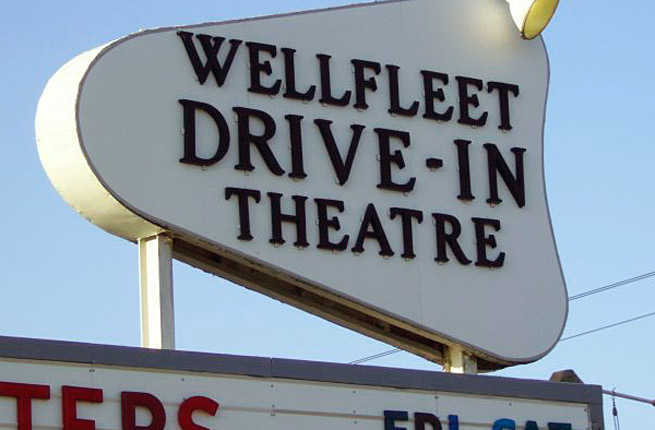 Courtesy of Wellfleet Drive-In and Cinemas
Where: Cape Cod, Massachusetts
As the only drive-in movie theater on Cape Cod, Wellfleet attracts quite a following. The old-school theater opened in 1957, and features daily double films on a 100-foot screen. Stock up on concessions at the drive-in's popular dairy bar and grill, or sit back with a beer at the property's outdoor cocktail bar.
Insider Tip: If you get to the show early, consider playing a round of mini golf at the theater's vintage 18-hole course.
PLAN YOUR TRIP: Visit Fodor's Cape Cod Guide