Vlad G/Shutterstock
If "all the world's a stage," as Shakespeare famously wrote, then the world's stages are the best way to explore the drama that a culture holds. Some theaters not only house gifted singers, dancers, musicians, and actors, their architectural elements are applause-worthy as well. These 15 opulent and extravagant theaters are some of the most marvelous venues in the world to catch everything from opera to flamenco to the high-kicking Rockettes.
By Kathleen Squires
anshar/Shutterstock
WHERE: Moscow, Russia
The world's biggest ballet company, dating to 1776, has over 200 dancers, whose exquisite training always promises a superb performance. Known as the home of Tchaikovsky, the Bolshoi in Moscow also premiered the Russian opera Boris Godunov. The recent $700 million renovation of the 19th century structure gave the six-tiered auditorium extra sparkle.
PLAN YOUR TRIP: Visit the Fodor's Moscow Guide
Elgin and Winter Garden Theaters, Toronto
WHERE: Toronto, Canada
The only remaining double-decker theater in the world got its start as two separate vaudeville halls, built in 1913. The Elgin is known for its gold-leaf interior, while the Winter Garden's décor is based on Shakespeare's Midsummer Night's Dream. Today, patrons can catch musicals, concerts, and films, or take guided tours.
PLAN YOUR TRIP: Visit the Fodor's Toronto Guide
Yuryz/Dreamstime.com
Kabuki-Za Kabuki Theater, Tokyo
WHERE: Tokyo, Japan
Japan's most iconic theater form, kabuki, features ornate costumes, elaborate makeup, song, and dance for four-to-five hour performances. Kabuki-Za, a Tokyo landmark, retains the same imperial façade from its 1889 debut despite five reconstructions. Those who don't want to make an all-night commitment can opt for the one-act ticket option.
PLAN YOUR TRIP: Visit the Fodor's Tokyo Guide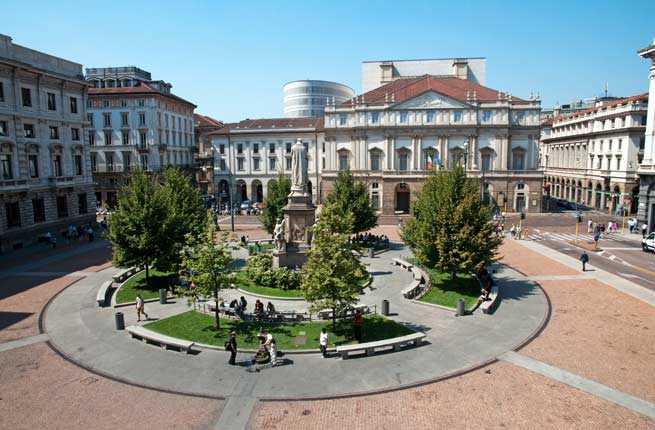 Moreno Soppelsa/Shutterstock
WHERE: Milan, Italy
Opened in 1778, this is the epitome of an opera house, the kind that makes you want to put on your black tie or evening gown. Geniuses who have graced La Scala's stage include Verdi and Maria Callas. The museum, with paintings, librettos, and costumes, is also worth a visit. Guided tours are available.
PLAN YOUR TRIP: Visit the Fodor's Milan Guide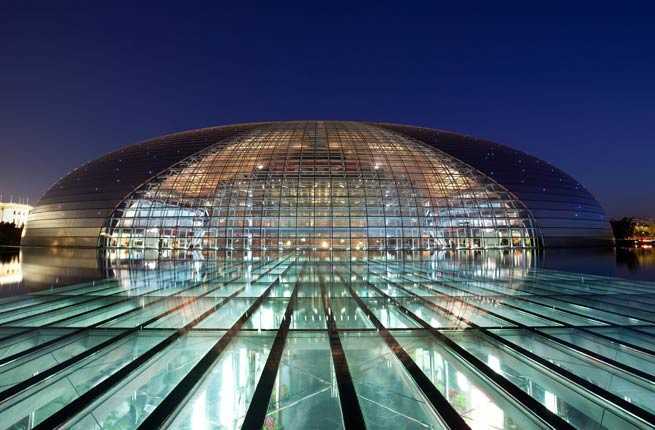 testing/Shutterstock
National Centre for Performing Arts, Beijing
WHERE: Beijing, China
Known as the "giant egg," this behemoth, titanium-and-glass ovoid may appear as if a spaceship landed on a man-made lake, but it's a fully modern locale for dance, music and theater. Unveiled in 2007, the National Centre interior holds three venues: an opera house, a concert house, and a theater. Tours for the public are given daily.
PLAN YOUR TRIP: Visit the Fodor's Beijing Guide
krechet/Shutterstock
Odeon of Herodes Atticus Acropolis, Athens
WHERE: Athens, Greece
This ancient odeon, built in Roman style around 160 AD, hosts the annual Athens Festival each May through October. Though a pop star like Sting might be performing among the ruins here, just adjacent to the Acropolis, it's hard not to picture a classic Greek chorus onstage at one of the world's most atmospheric open-air theaters.
PLAN YOUR TRIP: Visit the Fodor's Athens Guide
Arturoosorno/Dreamstime.com
Palacio de Bellas Artes, Mexico City
WHERE: Mexico City, Mexico
This colossal white-marble opera house is the place to catch the renowned Ballet Folklórico de México, and also to admire Diego Rivera murals. Inaugurated in 1934, the glass curtain, depicting the two volcanoes outside Mexico City, is as engaging as the performances. There are also two museums within—one that hosts rotating art exhibits, and the other devoted to architecture.
PLAN YOUR TRIP: Visit the Fodor's Mexico City Guide
Vlad G/Shutterstock
Palau de la Música Catalana, Barcelona
WHERE: Barcelona, Spain
Flamenco, opera, gospel, orchestra—the Palau de la Música Catalana has seen all manner of music. The Art Nouveau building, completed in 1908, features a dazzling variety of performers under its stunning, stained-glass dome. The domineering organ is worth a peek as well. The venue also includes several dining options, and guided tours are offered daily.
PLAN YOUR TRIP: Visit the Fodor's Barcelona Guide
mary416/Shutterstock
Palais Garnier Opera, Paris
WHERE: Paris, France
This Beaux Arts gem, first inaugurated in 1875, is an architect's dream, with a gilded façade, grand marble staircase, columned-foyers, and Chagall ceilings. The Phantom of the Opera famously haunted its halls in the Gaston Leroux novel, and Degas painted ballerinas here. Hear all about Palais Garnier's fascinating history via daily, guided tours, and visit the museum to see fascinating scale-models of set design in the permanent gallery.
PLAN YOUR TRIP: Visit the Fodor's Paris Guide
Sepavo/Dreamstime.com
Radio City Music Hall, New York
WHERE: New York, New York
The largest indoor theater in the world, with the largest stage curtain, can also claim the highest-kicking dance troupe in existence: the legendary Rockettes. The elaborate Christmas show is the big tradition at the Radio City Music Hall. The famous neon marquee is a beacon of midtown Manhattan. Terrific behind-the-scenes tours are available daily.
PLAN YOUR TRIP: Visit the Fodor's New York City Guide
jan kranendonk/Shutterstock
Royal Albert Hall, London
WHERE: London, England
The terra-cotta exterior of the Royal Albert Hall is a landmark of the Kensington neighborhood of London. Built in honor of, and to execute the vision of, Queen Victoria's beloved prince consort, Albert, a frieze around the perimeter depicts the "Triumph of Arts and Sciences." Today, visitors can take advantage of quaint afternoon tea tours, or enjoy performances ranging from the BBC "Proms" concerts to singer Eric Clapton.
PLAN YOUR TRIP: Visit the Fodor's London Guide
Arapov Sergey/Shutterstock
WHERE: Sydney, Australia
It's hard to imagine the city without this icon, finished only 40 years ago. The wings of the Sydney Opera House's unique, shell-like shape took 15 years to execute. Inside, there are seven halls for musicals, concerts, dance and, of course, opera. The backstage 40th anniversary tour highlights the trials and tribulations of its creation.
PLAN YOUR TRIP: Visit the Fodor's Sydney Guide
gary yim/Shutterstock
WHERE: Manaus, Brazil
This brick, belle époque structure amid the rainforest is the home of the Amazonas Philharmonic Orchestra. Before taking in a performance at Teatro Amazonas, enjoy the ceramic-tiled dome from a distance. Each piece is painted in the colors of brazil's flag: green, yellow, and blue. Some 200 Murano glass chandeliers steal the show inside.
PLAN YOUR TRIP: Visit the Fodor's Brazilian Amazon Guide
Anibal Trejo/Shutterstock
Teatro Colón, Buenos Aires
WHERE: Buenos Aires, Argentina
Near-perfect acoustics have drawn everyone from Toscanini to Pavarotti to this opulent auditorium. Opera, ballet, and concerts constantly fill Teatro Colón's seven-tiered, horseshoe-shaped auditorium while the galleries, decked out in marble, stained glass and mosaics, are worth a stroll on their own. The spectacular tours bring visitors through costumery, wig-making, scenery and more.
PLAN YOUR TRIP: Visit the Fodor's Buenos Aires Guide
Gerry Boughan/Shutterstock
Walt Disney Concert Hall, Los Angeles
WHERE: Los Angeles, California
Home of the Los Angeles Philharmonic and its Master Chorale, this Frank Gehry-designed masterpiece has all the hallmarks of the famous architect: no right angles, and an undulating silhouette. Built of stainless steel, the Walt Disney Concert Hall opened in 2003 and the locals immediately embraced it with an attendance above 90% since opening. Tours available.
PLAN YOUR TRIP: Visit the Fodor's Los Angeles Guide