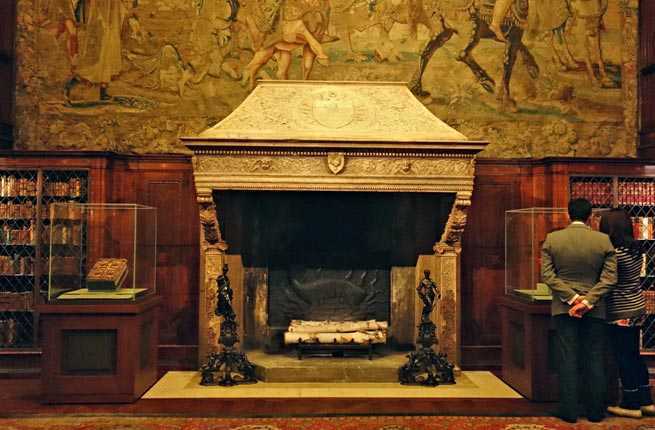 (c) Bigapplestock | Dreamstime.com
Ever since the Gilded Age, the United States has had a strong tradition of art collecting, starting with tycoons like Henry Clay Frick and J. P. Morgan who acquired as many European works as possible. Later, visionaries like Solomon R. Guggenheim and Gertrude Vanderbilt Whitney turned their eyes toward American art. Fortunately for the rest of us, many of these works of art are now housed in museums—sometimes in collectors' former homes—that are open to the public. Here are 15 spots where you can see the treasures amassed by America's greatest art collectors.
By Laura Itzkowitz
Stuart Monk/Shutterstock
WHERE: New York City
A visit to the The Frick Collection on Fifth Avenue feels a bit like a trip back in time to 19th-century Paris. Henry Clay Frick was a steel magnate and Gilded Age art collector with a taste for 18th- and 19th-century French decorative arts, furniture, and paintings. Frick also acquired some marvelous Old Master paintings by Rembrandt, Vermeer, Frans Hals, Bellini, and Veronese. Today you can visit his mansion designed by famed architects Carrère and Hastings, and admire his collection.
Insider Tip: Advance tickets are recommended for popular temporary exhibits, which often sell out quickly and have long lines.
PLAN YOUR TRIP: Visit Fodor's New York City Guide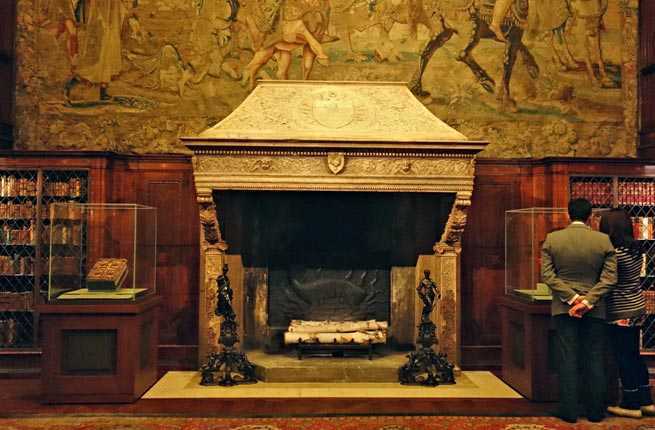 (c) Bigapplestock | Dreamstime.com
The Morgan Library and Museum
WHERE: New York City
Gilded Age banker and man about town J. P. Morgan left an indelible imprint on New York City, as one of the first presidents of the Metropolitan Museum of Art and a founder of the Metropolitan Club. The Morgan Library & Museum was originally his office and library, which he filled with Medieval and Renaissance treasures, including three Gutenberg bibles, illuminated manuscripts, and drawings by Leonardo Da Vinci. A huge expansion in 2006 by Renzo Piano added 75,000 square feet of modern space, but the real draw is Morgan's original library, built by Charles McKim in the Italian Renaissance style. There you can see his desk, peek inside his vault, and admire the rare books, Renaissance paintings, and ceiling frescoes in the library.
Insider Tip: Rumor has it that the ghost of his librarian still haunts the building.
PLAN YOUR TRIP: Visit Fodor's New York City Guide
Public Domain, via Wikimedia Commons
Isabella Stewart Gardner Museum
WHERE: Boston
Isabella Stewart Gardner was an eccentric patron of the arts—both supporting her contemporaries like John Singer Sargent (who painted her portrait), and bringing over exquisite paintings and decorative arts from Europe. As she began to amass a substantial collection, she had a magnificent Venetian-style palazzo constructed on Boston's Fenway, incorporating architectural elements from Italy. Her taste in art was quite progressive at the time. While many American collectors shied away from nudes, Isabella saw the beauty and value in masterpieces like Titian's Europa, which is one of the highlights of the museum's collection. Her will stipulated that the museum should display her collection as she left it.
Insider Tip: The museum offers free admission to U.S. Military and their families, and anyone named Isabella.
PLAN YOUR TRIP: Visit Fodor's Boston Guide
Public Domain, via Wikimedia Commons
WHERE: Washington, D.C.
Duncan Phillips began writing about and collecting art in the early 1900s, thanks to an allowance from his parents Major Duncan Phillips, a Pittsburgh businessman, and Eliza Laughlin Phillips, whose father was a co-founder of the Jones and Laughlin Steelworks. After his father and brother's untimely deaths in 1917 and 1918, he founded the Phillips Memorial Gallery—now known as The Phillips Collection—in the family home on Dupont Circle. He was a champion of modern art, and added a modernist wing to the museum in 1960 with a Rothko room that exhibits four Rothkos in an intimate, meditative setting.
Insider Tip: Spend some time with Renoir's Luncheon of the Boating Party, which remains the museum's most famous and adored work to this day.
PLAN YOUR TRIP: Visit Fodor's Washington, D.C. Guide
(c) Msurdin | Dreamstime.com
Huntington Library, Art Collections, and Botanical Gardens
WHERE: San Marino, California
The main draw of the Huntington Library is the spectacular mansion and grounds, which feature several gardens. Visitors can easily spend a whole afternoon wandering from the Rose Garden to the Japanese Garden with its ceremonial teahouse, bonsai court, and Zen rock garden, through winding paths to the Chinese Garden, and the Desert Garden. Henry E. Huntington, a railroad magnate, and his wife Arabella were avid collectors of rare books and manuscripts, 18th-century British art, and botanical specimens. In the library you can see the Ellesmere manuscript of Chaucer's Canterbury Tales and George Washington's genealogy in his own handwriting.
Insider Tip: The gardens are a beautiful place for a stroll, but no picnicking is allowed. You can find food and beverages at the café or tearoom.
PLAN YOUR TRIP: Visit Fodor's Los Angeles Guide
f11photo/Shutterstock
WHERE: Philadelphia
Chemist and art collector Dr. Albert C. Barnes's favorite painter was Renoir, and 181 of the French Impressionist's paintings line the walls of the Barnes Foundation in Philadelphia. Dr. Barnes acquired a wealth of post-Impressionist and early 20th century art, including 69 Cézannes, 59 Matisses, 46 Picassos, 13 Modiglianis, and seven Van Goghs. At the gallery's entrance hangs a portrait of Dr. Barnes by Giorgio de Chirico. Despite a stipulation in his will that his collection should be displayed at his home in Merion, Pennsylvania in perpetuity, the board of trustees decided to build a new museum on Philadelphia's Benjamin Franklin Parkway to revitalize the Barnes collection. The new Barnes Foundation, designed by Tod Williams and Billie Tsein, opened in 2012 to much fanfare.
Insider Tip: As you walk through the rooms, note how the paintings are displayed symmetrically. Don't miss the trio of Matisse portraits upstairs.
PLAN YOUR TRIP: Visit Fodor's Philadelphia Guide
Gryffindor [Creative Commons Attribution-Share Alike 3.0 Unported license], via Wikimedia Commons
Whitney Museum of American Art
WHERE: New York City
Gertrude Vanderbilt Whitney, a sculptor and art collector, saw the challenges facing American artists of her time, who were not accepted in traditional museums. Supported by the wealth of two great American families, she became one of the country's foremost art collectors from 1907 until her death in 1942, and exhibited works at the Whitney Studio in Greenwich Village. When the Metropolitan Museum of Art rejected her donation, she decided to create her own museum focused exclusively on American art. The Whitney Museum of American Art has been one of the country's foremost art museums ever since. The collection includes works by Jackson Pollock, Jasper Johns, Alexander Calder, Sol Le Witt, Edward Hopper, Alex Katz, and Franz Kline, to name a few.
Insider Tip: Go now to see the 2014 Biennale, because it's the last one that will be held in the Marcel Breuer building uptown before the Whitney moves downtown again.
PLAN YOUR TRIP: Visit Fodor's New York City Guide
Adriano Castelli/Shutterstock
Solomon R. Guggenheim Museum
WHERE: New York City
Widely considered one of America's must-see museums, the Solomon R. Guggenheim Museum in New York City benefits from both a superb collection and one of the country's most iconic 20th-century buildings. The Guggenheim Foundation was founded in 1937 to foster the collection and preservation of modern and contemporary art, and by the time Frank Lloyd Wright's spiral museum was finished in 1957, there was more than enough art to put in it. The permanent collection comprises 150 Kandinskys, plus masterpieces by Cezanne, Van Gogh, Manet, Gauguin, Monet, and Picasso.
Insider Tip: The Guggenheim is known for its dynamic roster of excellent temporary exhibits, which can draw large crowds. Check the museum's website in advance to see what's showing.
PLAN YOUR TRIP: Visit Fodor's New York City Guide
By Daderot [Creative Commons Attribution-Share Alike 3.0 Unported license], via Wikimedia Commons
WHERE: Honolulu
Heiress Doris Duke married at 22 years old and set out on an around the world honeymoon with her husband James Cromwell. Though the marriage didn't last, Duke's love affair with Islamic art and architecture did. She began collecting on that trip and didn't stop until her death. She also fell in love with Hawaii, where she built the home she called Shangri-La on five acres of land at Black Point near Waikiki. Indeed, the house is an oasis filled with ceramic arts, tiles, Late-Ottoman Syrian furnishings, 18th-century Iranian art, textiles, carpets and architectural elements. Upon her death, she left her collection to the Doris Duke Foundation for Islamic Arts, which opened her magnificent home up to the public.
Insider Tip: Guided tours last about two and a half hours and must be reserved in advance. Guests begin at the Honolulu Museum of Art and are transported by shuttle bus to Shangri-La.
PLAN YOUR TRIP: Visit Fodor's Honolulu and Oahu Guide
(c) Vtphotos | Dreamstime.com
WHERE: Shelburne, Vermont
The Shelburne Museum in Vermont is one of the most eccentric collections of art and architecture in America. Electra Havemeyer Webb was the daughter of H. O. and Louisine Havemeyer, who made their fortune in sugar refineries and were avid art collectors. While her parents preferred French Impressionist paintings, Electra nurtured a love for Americana, antiques and folk art. She bought up entire historic buildings—namely, two barns, a one-room schoolhouse, a lighthouse, a jail, a general store, a covered bridge, and even a steamship called the Ticonderoga—and had them moved to Shelburne to create a village-like museum. The museum also exhibits more than 200 carriages and has a building devoted to circus figures and posters.
Insider Tip: Make sure you have plenty of time to wander through the museum, which is spread out over 45 acres. A shuttle circulates the grounds every fifteen minutes.
PLAN YOUR TRIP: Visit Fodor's Shelburne, Vermont Guide
Vidu Gunaratna/Shutterstock
Hirshhorn Museum and Sculpture Garden
WHERE: Washington, D.C.
Latvian immigrant Joseph H. Hirschhorn left school at the age of 13 to become a newsboy, and eventually ended up making a fortune in uranium. He began collecting art at the age of 18, and became a great supporter and friend to the artists of his day. He often visited their studios, and even helped Willem de Kooning fund the construction of his Long Island studio in exchange for works of art. Hirshhorn amassed an impressive collection of 20th-century sculptures, including works by Brancusi, Giacometti, Rodin, and Calder. Though he was courted by many museums, he decided to create his own eponymous museum on the National Mall, thanks in part to Ladybird Johnson, then the First Lady.
Insider Tip: Be sure to see Roy Lichtenstein's huge yellow cartoon brushstroke sculpture outside.
PLAN YOUR TRIP: Visit Fodor's Washington, D.C. Guide
WHERE: Houston
Architect Renzo Piano described the museum he designed for The Menil Collection as a "portrait of Dominique: discreet, intelligent, welcoming, elegant." The young Parisian couple Jean (who later anglicized his name to John) and Dominique de Menil moved to Houston in 1941 to escape the war. They believed deeply in the spiritual power of art and experienced it in a personal way. They filled their home not only with art, but also with filmmakers and artists, like Henri Cartier-Bresson, who photographed them at home. They were known to buy up a gallery's entire show, including work by minimalists Donald Judd and Dan Flavin.
Insider Tip: There are only two permanent installations of Dan Flavin's work in America, and The Menil Collection has one of them. Also be sure to see the attached gallery full of Cy Twombly's abstract paintings.
PLAN YOUR TRIP: Visit Fodor's Houston Guide
Rolf_52/Shutterstock
WHERE: Los Angeles
Oil magnate and art collector J. Paul Getty has two namesake museums in Los Angeles—the new Getty Center designed by Richard Meier and the original Getty Villa in Malibu. Contrary to Meier's modern museum complex, the Getty Villa was designed to look like an ancient Roman country house. It's modeled on the Villa dei Papiri in Herculaneum, complete with a courtyard and outdoor classical theater. Here visitors can see Getty's collection of Ancient Greek, Roman and Etruscan antiquities, ranging from artifacts of everyday life to monumental sculptures.
Insider Tip: If you plan to visit both the Getty Center and the Getty Villa, plan ahead because you could easily spend several hours at each one.
PLAN YOUR TRIP: Visit Fodor's Los Angeles Guide
WHERE: Pasadena, California
Norton Winfred Simon, the entrepreneur behind Hunt-Wesson Foods, Canada Dry, McCall's Publishing, Max Factor Cosmetics, and Avis Car Rental prospered during the Great Depression and began collecting art in the 1950s. He started with works by Degas, Renoir, Gauguin, and Cézanne but soon branched out to the Old Masters, and later to South Asian art, thanks to his 1971 marriage to actress Jennifer Jones. On their honeymoon in India, Mr. Simon bought a Mughal ivory chess set and developed an appreciation for Asian art. Today, the Norton Simon Museum houses a world-renowned collection of European and South Asian art.
Insider Tip: Don't miss the gardens inspired by Giverny and the Rodins outside.
PLAN YOUR TRIP: Visit Fodor's Pasadena and Environs Guide
(c) Johnnydevil | Dreamstime.com
Peggy Guggenheim Collection
WHERE: Venice
The niece of Solomon R. Guggenheim, Peggy Guggenheim was born in New York City in 1898, but spent much of her life in Europe. In the 1920s, she lived a bohemian life in Paris, socializing with American ex-pats and artists like Brancusi and Duchamp. She opened her first art gallery in London in 1937 and set her sights on creating a museum. From 1939-40, she was determined to "buy a picture a day," and continued on despite the war. In 1941 she returned to New York with Max Ernst, her second husband, but returned to Europe and bought the Palazzo Venier dei Leoni on Venice's Grand Canal in 1947. Today, visitors can see the Peggy Guggenheim Collection's Cubist, Futurist, Surrealist, and Abstract Expressionist masterpieces in the intimate setting of her former home.
Insider Tip: Peggy Guggenheim was a major supporter of Jackson Pollock, and her museum houses some of his finest paintings.
PLAN YOUR TRIP: Visit Fodor's Venice Guide