Stevie Crecelius
When the weather's right, seeing a concert outdoors is one of the warmer seasons' many pleasures. Beyond the music, these creatively designed, legendary venues add even more to the concert-going experience. Soak in the atmosphere at these open-air venues, where you'll be surrounded by stunning landscapes while listening to top-notch acoustics. If you're looking for a truly memorable concert experience, be sure to pay a visit to one of the 10 best outdoor music venues in the U.S. —Annie Bruce
Matthew Lamb
Gorge Amphitheatre
WHERE: George, Washington
Since opening in 1985, the Gorge Amphitheatre has become known as one of the best (and most scenic) outdoor music scenes in the world. Settled near the Columbia River with the Cascade Mountains in the background, the performance space can fit more than 20,000 visitors, many of whom stay in the nearby campground before shows. The Gorge has hosted Pearl Jam, the Dave Matthews Band, Tom Petty, and many more notable performers over the years.
PLAN YOUR TRIP: Visit Fodor's Spokane and East Washington Travel Guide
Ken Howard / Santa Fe Opera
Crosby Theatre
WHERE: Sante Fe, New Mexico
Surrounded by the Jemez and Sangre de Cristo Mountains, the Crosby Theatre is home to the Santa Fe Opera. The open-air theater features a stunning roof that curves to capture the "shape of the sound" and to collect rainwater, which is then stored and used for upkeep around the campus. The entire stage and mezzanine roofs span 26,616 square feet. The Crosby Theatre, named after opera company founder John Crosby, seats 2,128 guests (with additional standing room for 106) from around the world during its July and August opera season. Through the years, more than 1,600 performances have been given on the stage, including a mix of classic works and American and world premieres.
PLAN YOUR TRIP: Visit Fodor's Santa Fe Travel Guide
Patrick L. Pyszka/City of Chicago
Jay Pritzker Pavilion
WHERE: Chicago, Illinois
Designed by famous architect Frank Gehry, Jay Pritzker Pavilion is a stunning installation in Chicago's Millennium Park and features 120-foot stainless steel ribbons and crisscrossing steel pipes that stretch over the Great Lawn. With a mix of fixed seating and lawn space, more than 11,000 can attend one of the park's concerts, many of which are free. Home to the Grant Park Music Festival, the concert venue has also welcomed Jewel, Clint Black, and the Chicago Symphony Orchestra to its stage. The Jay Pritzker Pavilion opened in the summer of 2004 and provides stunning views of Chicago's skyline.
PLAN YOUR TRIP: Visit Fodor's Chicago Travel Guide
Stevie Crecelius
Red Rocks Amphitheatre
WHERE: Morrison, Colorado
As the world's only naturally-occurring and acoustically perfect amphitheatre, Red Rocks is a must-visit for any music-lover. The Beatles, U2, Sting, and many more stars have performed on the stage, made up of two 300-foot rocks and sandstone. The amphitheatre seats close to 10,000 and is located in Red Rock Park, 6,450 feet above sea level, with stunning views of the surrounding Denver area. Burnham Hoyt designed the space by balancing functionality with nature, and it officially opened in 1941.
PLAN YOUR TRIP: Visit Fodor's Colorado Travel Guide
Ryan McElwain
Starlight Theatre
WHERE: Kansas City, Missouri
One of the few self-producing outdoor theaters left in the U.S., the Starlight Theatre stands out from the rest with its unique background and combination of Broadway and concert productions. Official plans to build the Starlight kicked off in 1925, when a visit from Romania's Queen Marie created a need for an outdoor performance venue. Construction finally began in 1949 and the theater opened (but wasn't entirely finished) with a historical revue in 1950 for the city's centennial. The Starlight Theatre has enjoyed visits from many famous names. President Harry Truman made a brief appearance on the stage (during a production of Mr. President), and Jerry Lewis funded a temporary stage extension (which later became permanent) in 1958. The space, which seats close to 8,000, has hosted touring Broadway companies, comedians, and musical guests, such as Angela Lansbury, Kristin Chenoweth, and Tony Bennett.
PLAN YOUR TRIP: Visit Fodor's Kansas City Travel Guide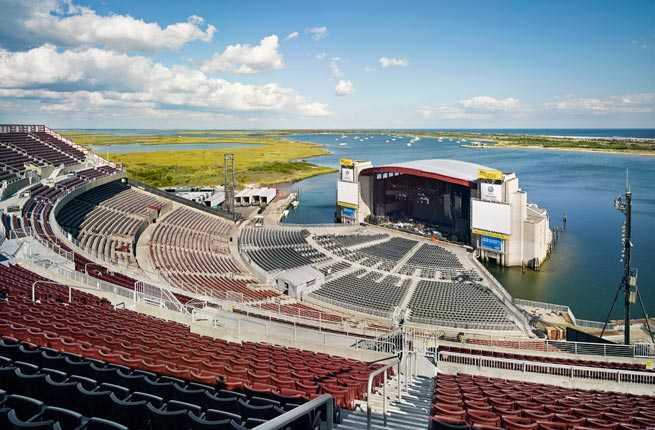 Courtesy of Live Nation Entertainment
Nikon at Jones Beach Theater
WHERE: Wantagh, New York
After Hurricane Sandy hit New York in 2012, the Nikon at Jones Beach Theater suffered extensive flooding and structural damage. Fortunately, it reopened in less than a year and has since hosted a bevy of notable performers, including Ke$ha, the Rascal Flatts, and Pitbull. When the venue first opened in 1952, it hosted a number of theatrical productions and in later years transformed into a concert hot spot. The theater sits along the Zachs Bay in Long Island and holds 15,000 people.
PLAN YOUR TRIP: Visit Fodor's New York Travel Guide
Greek Theatre
WHERE: Berkeley, California
UC Berkeley's William Randolph Hearst Greek Theatre first launched in 1903, with a student production of The Birds. Since then, the amphitheater has hosted a number of notable musical guests and theater performances, including a production of A Midsummer Night's Dream featuring Mickey Rooney and Olivia De Haviland. The Greek Theatre is also the site of UC Berkeley graduation ceremonies, where a number of notable names have given commencement addresses (including President Theodore Roosevelt), and the school's annual Big Game Bonfire Rally before the UC Berkeley and Stanford football match. The amphitheater, which was given to the university by its namesake, seats 8,500 and features Greek-style columns and architecture.
PLAN YOUR TRIP: Visit Fodor's The Bay Area Travel Guide
Courtesy of the Los Angeles Philharmonic Association
Hollywood Bowl
WHERE: Los Angeles, California
Known as the largest natural outdoor amphitheater in the country, the Hollywood Bowl is a legendary performance space, public park, and picnic ground. The Beatles, Fred Astaire, Frank Sinatra, Aretha Franklin, Tina Turner, and many more have all performed on the Bowl's stage. In order to balance acoustics with design and natural landscape, a number of different shell-designs were used throughout the years; the iconic shell that appears today was created in 1929 and a new shell that improved sound, while keeping the famous look, was added in 2003. The Los Angeles Philharmonic regularly performs at the Bowl.
Insider Tip: When you visit, stop by the Hollywood Bowl Museum to admire photographs and memorabilia documenting the performance venue's fascinating history. Admission is free and the museum is open during the day and in the evening before performances.
PLAN YOUR TRIP: Visit Fodor's Los Angeles Travel Guide
Courtesy of Live Nation Entertainment
Alpine Valley Music Theatre
WHERE: East Troy, Wisconsin
The second largest amphitheater in the U.S., the Alpine Valley Music Theatre has hosted Bruce Springsteen and the E Street Band, Aerosmith, the Grateful Dead, Coldplay, and many more great performers. Located almost equidistant from Madison, Milwaukee, Chicago, and Rockford, the Alpine Valley Music Theatre can hold 37,000 people in pavilion seats and on expansive lawn space.
PLAN YOUR TRIP: Visit Fodor's Wisconsin Travel Guide
Merriweather Post Pavilion
WHERE: Columbia, Maryland
Located within 40 acres of forest, known as Symphony Woods, the Frank Gehry-designed Merriweather Post Pavilion was originally built to house the National Symphony Orchestra. Now, however, the music venue and surrounding green space is known for hosting legendary rock acts, including Janis Joplin, the Grateful Dead, Green Day, and Led Zeppelin, and a number of large music festivals. In order to accomadate bigger festival events and maximize the experience for music-lovers, temporary stages are sometimes added throughout the preserved acres of Symphony Woods. Since opening in 1967, the Pavilion itself has undergone a some changes throughout the years, including environmental-friendly enhancements, such as solar panels to power house lights and the addition of a Music Pinball Arcade and kitchen. Notably, the first 15 rows of seats were taken out to build a mosh pit before Green Day's American Idiot tour appearance at the venue and the loge sections were added specifically for Tom Jones.
PLAN YOUR TRIP: Visit Fodor's Maryland Travel Guide