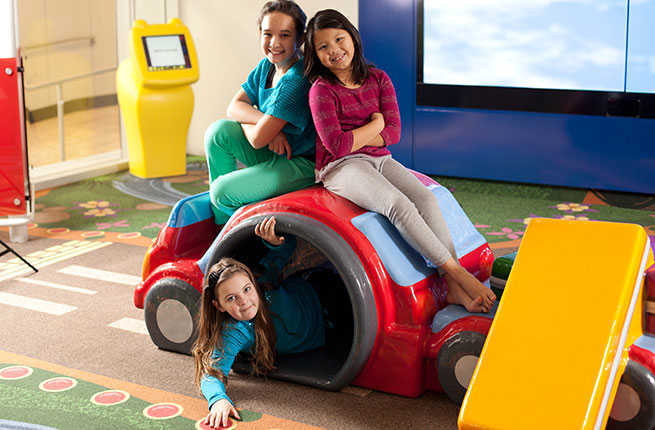 courtesy of DFW Airport
Traveling with children can be trying, especially when a layover is involved. But some airports in the U.S. make the experience more tolerable and offer families with kids a reprieve. From watching brightly colored sea creatures at a 3,000-gallon aquarium at Orlando International Airport to climbing on mock airplanes at Minneapolis-St. Paul International, there's no shortage of kid-friendly activities at these airports. Here are our picks for America's Best Kid-Friendly Airports. —Emily Wasserman
San Francisco International Airport
The city by the bay is home to one of the most kid-friendly airports in the country, San Francisco International Airport. Children will enjoy the SFO Kids' Spot, which includes a weather-themed play area and crawling equipment. The Plasma Wall, which is a display of sound-activated colorful arcs, also provides entertainment. For a look at marine life, stop by Terminal 1, where three different aquariums showcase fish from around the world.
PLAN YOUR TRIP: Visit Fodor's San Francisco Guide
MSP Airport
Minneapolis-St. Paul International Airport
Families with small children will find a safe haven at Minneapolis-St. Paul Airport. Terminal 1-Lindburgh and Terminal 2-Humphrey are home to aviation-themed play areas geared toward toddlers and preschoolers. Younger visitors can climb into mock airplanes and slide down faux control towers. A statue of Snoopy in Terminal 1 pays homage to late cartoonist Charles Schultz and provides plenty of photo ops. The airport didn't forget about older kids; free Wi-Fi and three video arcades will keep preteens and teens entertained during layovers.
PLAN YOUR TRIP: Visit Fodor's Minneapolis-St. Paul Guide
Philadelphia International Airport
Kids will get a kick out of the aviation-themed play areas at Philadelphia International Airport. The Aviation Play Station in Terminal D comes equipped with a hands-on child-size jet and cockpit, and Ready for Takeoff in Terminal A boasts a control tower with a radio and a play jet. Older kids can browse rotating art exhibits, which have included model aircraft showcases. Don't leave without a classic Philly Soft Pretzel from the food court, which features plenty of kid-friendly options.
PLAN YOUR TRIP: Visit Fodor's Philadelphia Guide
courtesy of DFW Airport
Dallas-Fort Worth International Airport
In Texas, bigger is better. Dallas-Fort Worth International lives up to this adage with plenty of kid-friendly amenities where children can be entertained for hours. One club in Terminal B features a 658-square foot play area with aviation-themed, padded equipment and an indoor runway. A second smaller playground in Terminal D also offers kids some distraction, while a third play area boasts games. For an amusement park experience, take a ride on Skylink. The transportation system connects terminals but also offers families a birds-eye-view of the airport.
PLAN YOUR TRIP: Visit Fodor's Dallas-Fort Worth Guide
Boston Logan International Airport
Two kid-friendly play areas at Boston Logan International will let kids imagine what it would be like to work at an airport. An indoor playground in Terminal C, Kidport, includes a baggage-claim slide, an airport for climbing, and a window display area that shows kids what's happening on the runway. The playroom also features hands-on educational exhibits such as an airplane sculpture. A second play area in Terminal A boasts a replica of the airport's air traffic control tower with slides and climbing structures. For moms with babies, rocking chairs located throughout the terminals allow them to rest between flights.
PLAN YOUR TRIP: Visit Fodor's Boston Guide
Chicago O'Hare International Airport
The hustle and bustle of Chicago O'Hare International can be a bit overwhelming for families. But the airport has plenty of kid-friendly attractions that offer children and parents a break from the action. An aviation-themed playground called "Kids on the Fly" includes an interactive exhibit with a fantasy helicopter cockpit and a luggage station. Younger visitors will enjoy the life-size Brachiosaurus skeleton in Terminal 1, which was donated by Chicago's Field Museum.
PLAN YOUR TRIP: Visit Fodor's Chicago Guide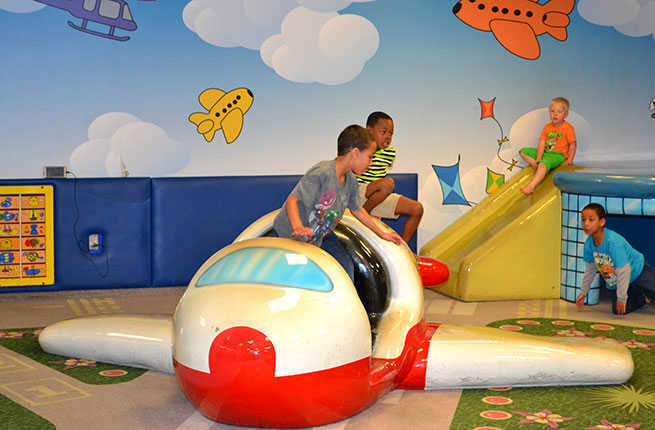 Brian DeRoy – Port of Seattle
Seattle-Tacoma International Airport
Parents will rejoice during layovers at Seattle-Tacoma International Airport. Younger kids can race through a 1,400-square-foot padded children's play area between the A and B concourses. Aviation-themed attractions including a control tower and baggage cart give children opportunities to use their imagination and pretend like they're working at the airport. Pre-teens and teens will enjoy the airport's "Experience the City of Music" exhibit. Visitors can listen to playlists through speakers and video screens, and scroll through a smartphone app that features some of the region's upcoming talent.
PLAN YOUR TRIP: Visit Fodor's Seattle Guide
Portland International Airport
Kids will find no shortage of things to do in Portland International Airport. The end of Concourse C is a kid-friendly mecca filled with LEGO tables, bead mazes, TVs playing children's shows, and play cars. A colorful padded jungle gym in the Concourse Connector has a lookout telescope that lets kids see planes on the tarmac. Older children will enjoy an interactive museum exhibit on the Columbia River, where kids can read journal entries about adventurers Lewis and Clark and look at artifacts from the exploration days of the old west.
PLAN YOUR TRIP: Visit Fodor's Portland Guide
Nashville International Airport
Kids with an ear for music will love Nashville International Airport, which boasts 6 concert stages with live music. When families and kids aren't enjoying some tunes, they can visit three padded play areas in the airport. Brightly colored playgrounds with LEGOs, tunnels, climbing walls, and slides are just a few of the things children will find. Concourse C is also home to two kids stores, including Kids Works, where families can pick up toys, crafts, games, and books to keep children occupied for hours.
PLAN YOUR TRIP: Visit Fodor's Nashville Guide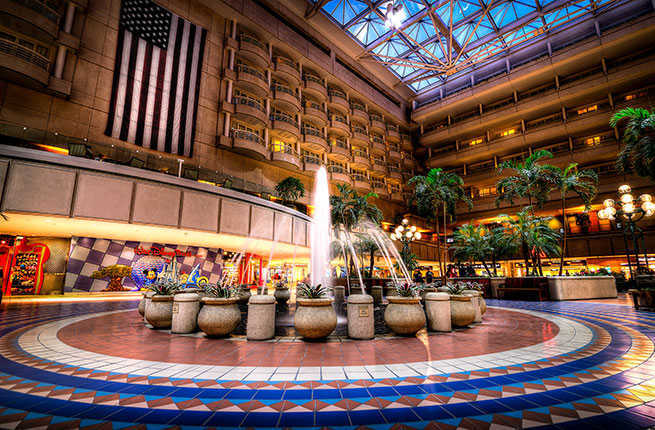 Adamstocker | Dreamstime.com
Orlando International Airport
Most visitors passing through Orlando are on their way to amusement parks or surrounding attractions, but Orlando International Airport is an attraction itself. The airport features a 3,000-gallon aquarium with more than 100 sea creatures, which gives visitors a sneak peak of what they might see if they visit Sea World. Children who like space travel will enjoy two Kennedy Space Center stores with real meteorites and life-size models of astronauts. Slightly older kids will get a kick out of the King Kong Arcade in the airport's Main Terminal, with pinball machines, racing simulators, and claw machines.
PLAN YOUR TRIP: Visit Fodor's Orlando Guide