Oaxaca for 9 nights
Feb 25th, 2020, 10:33 AM
Join Date: Aug 2013
Posts: 670
Likes: 0
Received 0 Likes on 0 Posts
Oaxaca for 9 nights
---
Hello all,
We have just returned from our third trip to Oaxaca. This time we decided to spend the entire time in the city, using it as a base for excursions into the surrounding area. In our other trips to Europe and Mexico we have never done this so we were wondering if we would go stir-crazy after a few days. Not to worry, this city and neighboring towns are such treasure chests of cultural diversity and richness. Plus, it was good to have stretches of time when we did not do much other than process the previous day's experiences over a few mezcal margaritas.
Herewith, a non-linear somewhat disorganized trip report, not following a day-to-day account.
Hotels: just one, the Parador San Miguel Oaxaca, on Independencia 502, just a couple of blocks west of the zocalo. This is the second time we have stayed here and we rate the place very highly (one word of caution: if you stay on a Friday or Saturday night, be sure to ask for a room at the back in order to avoid noise from a neighboring disco; but these are the only two active party nights during the week, other nights are fine.)
Restaurants: the city teems with elegant, fancy, mid-range, budget and tiny eating places. I will mention our favorites later.
We arrived via a new easy route just set up by American Airlines: Key West direct to Dallas, then Dallas direct to Oaxaca. Formerly we had to go to Miami on a puddle-jumper, change for Mexico City, wait several hours, and then fly to Oaxaca. This new route is so much better, thank you AA.
The centro of Oaxaca is so full of life, lots of families, young people, and little kids amidst the colonial splendor. So far it has avoided disney-fication while still absorbing a sizeable population of Canadian and U.S. snowbirds (in nine days I spotted only a few French and German visitors and one solitary Italian, so perhaps Oaxaca is not yet on the European tourist radar screen.
Mom, Dad, kid and airplane on Macedonio Alcala
Santo Domingo at night
Rooftop terrace of Parador San Miguel Oaxaca; beyond, San Felipe Neri, marvelous Oaxacan baroque church, where Benito Juarez was married
---
Last edited by EYWandBTV; Feb 25th, 2020 at

10:35 AM

. Reason: misspelling
Feb 27th, 2020, 03:34 AM
Join Date: Aug 2013
Posts: 670
Likes: 0
Received 0 Likes on 0 Posts
Early morning routine: there actually wasn't much of a routine. I liked to get up early, shower, dress, and get out of the hotel to enjoy the beautiful sunrise light--great for the shadow effects on the walls and pavements. Also fun to see the energy of the city coming alive, people vigorously walking to work, school kids scurrying down the streets, not many cars yet in the centro.
Walking up Porfirio Diaz to seek early morning cappuccino
Some mornings I went to a place recommended by our friend and winter Oaxaca resident, CC. This was Nuevo Mundo, on Manuel Bravo half a block east of Porfirio Diaz. They roast their own beans, make good coffee, offer delicious chocolate-filled pastries plus standard breakfasts like chilaquiles.
Brekkie at Nuevo Mundo: cappuccino and pan con chocolate
Some days we went to Boulenc, also on Porfirio Diaz. This is a great place, recently moved into much larger quarters. Began as a bakery, very fine sourdough and other types of bread, awesome pastries. Then it expanded into breakfast-lunch-dinner offerings plus running CC's most favorite bar in town.
Breaking the fast at Boulenc
Boulenc bar in the morning...sort of quiet at the moment
And when we really wanted to fuel up for the day we ate a full breakfast in the hotel's restaurant, El Andariego. It offers dozens of Mexican breakfasts--heavy, be forewarned! -- all well prepared, all delicious. My favorites were chilaquiles and huevos rancheros. They also prepared different juices. I usually got a jugo verde, a smoothie of spinach, oranges, and lots of other green things. Plus two cups of very fine cafe con leche to wash it all down.
The full frontal brekkie at Restaurante El Andariego in our hotel--muy rico!
Waddling around after breakfast I enjoyed the wall art of the centro.
Marilyn and admirer on Tinoco y Palacios
Feb 28th, 2020, 05:17 AM
Join Date: Aug 2013
Posts: 670
Likes: 0
Received 0 Likes on 0 Posts
Dominican gold: The city and the state of Oaxaca are studded with Dominican churches and monasteries dating back to the mid-1500s. Of the three orders sent by the King of Spain to convert the indigenous peoples, the Dominicans were the most important in Oaxaca. The other two, the Franciscans and Augustinians, built very few structures in the region.
Santo Domingo, west facade
The church and monastery of Santo Domingo (=Dominic) are the jewels of the city. The first Santo Domingo church was built just a few years after Cortes conquered the Aztec capital of Tenochtitlan (Mexico City). The collapse of the Aztec empire was not mourned by the Zapotecs and other indigenous peoples such as the Tlaxcalans—they had been on the receiving end of the brutal Aztec expansion. The present church was built in the mid-1600s. The church exterior is strong, almost fortress-like in appearance. Like all Oaxacan churches, it was designed to resist the earthquakes, large and small, which arrive regularly (Oaxaca is on the San Andreas fault)..
Santo Domingo plaza, maguey in bloom
Santo Domingo plaza
I walked Santo Domingo on a typical morning, sun blaring down on the plaza. The broad plaza space is bordered by agave and maguey plants, and some of the maguey are in full bloom. The plants bloom only once, after many years of growth, then they die. Note for plant nerds: our guide at the botanical garden behind the church later explained that the maguey is a member of the agave genus of plants, so all maguey are agave, but not vice versa. Tequila and mezcal are both derived from the agave family. Claro?
Even though I had visited the church on earlier trips, I still was gobsmacked by the riot of golden baroque decoration and the massive main retablo behind the main altar (how tall is the retablo? About 35 feet, slathered in gold).
Santo Domingo nave and main retablo behind central altar
Santo Domingo, in the nave looking toward main entrance
Earthquakes, civil wars, and thefts have battered Santo Domingo. Much of the interior has been restored, especially the golden central retablo. One could spend a long time studying this place; it embodies architectural influences from all parts of the Spanish colonial empire as well as showing some Islamic influences of the mudejar styles of southern Spain. (Other Dominican churches in Oaxaca state have wonderful mudejar elements, especially Yanhuitlan, which we visited, stay tuned…) For ordinary mortals with a good cel phone camera, Santo Domingo is a photographer's paradise.
Santo Domingo: a small detail---multiply this by millions!
Feb 28th, 2020, 08:07 AM
Join Date: Aug 2013
Posts: 670
Likes: 0
Received 0 Likes on 0 Posts
Momos, Trumpets, and Devils: So Friday afternoon were strolled onto M. Alcala and there, up the hill, came walking toward us…
Here comes a momo!
…a 20-foot high "momo", a giant female mannequin. It was great to see the crowd's reaction, a mix of awe and giggles as the momo slowly proceeded down the street, turning this way and that. Hmm. Well, I guess it's just an ordinary Friday afternoon in Oaxaca?
And then Saturday afternoon, when we entered M. Alcala, all heck was breaking loose, loud trumpets and drums and cymbals, scores of devils, costumed celebrants all the way up the hill to Santo Domingo.
Here comes the Carnival parade
Yes! It was Carnival! I had completely forgotten the dates: Shrove Tuesday, aka Mardi Gras, the day before Ash Wednesday and the beginning of Lent...this special day was approaching next week and Oaxaca was partying. Many towns in Oaxaca state had sent dancers and bands to participate in the parade. Below is Zaachila's group.
"The Devils of Zaachila"
Speaking of devils...they have become quite an art form. Here's a beautiful devil's head from the Museo de las Culturas de Oaxaca, located in the cloisters of Santo Domingo (more on that later):
Handsome devil!
Back to the parade: here comes a Santa Muerte momo...
Santa Muerte...Holy Death...a pre-Columbian entity (?)
Celebrants and admirers throng the street and plaza in front of Santo Domingo, glowing golden in the setting sun...
Santo Domingo plaza
Feb 28th, 2020, 08:38 AM
Join Date: Aug 2013
Posts: 670
Likes: 0
Received 0 Likes on 0 Posts
Oaxaca walls = Jackson Pollock + Mark Rothko: The walls of the old buildings in the centro, when viewed closely, provide a retrospective of abstract expressionism. The raw, unpainted native stone of the region has a beautiful pale turquoise tint.
Native stone of Oaxaca region
The stuccoed walls have different textures and when one paint color borders another the effect is electric.
Graffiti artists have produced some abstract masterpieces (when viewed up close; from a distance, they degrade these fine old structures).
And figurative artists are not to be ignored either…
Feb 28th, 2020, 01:25 PM
Join Date: Aug 2013
Posts: 670
Likes: 0
Received 0 Likes on 0 Posts
Out in the countryside: One day we took a guided trip to a farm near Teotitlan, in Zapotec country. This was organized by a company called Mezcouting, run by Andrea and Marco. They specialize in tours focusing on food, weaving, and mezcal. We had a superb day, with Andrea driving us first to the Teotitlan market, having lunch there, and chatting with some of the vendors whom she knows. Note: this little company pays the farm family whom we visited and also contributes to indigenous organizations. Andrea and Marco are strong believers in giving back to the indigenous communities whose culture they interpret for foreign visitors such as ourselves.
The farm land appears barren and the entire landscape of hills and mountains looks burned, but that is because we went during the dry season. In the summer rainy season, we were told that everything is brilliant green.
The family farm near Teotitlan
The family produces vegetables, corn, raises chickens and turkeys, and has two bulls for ploughing. The family trades some of their produce in the Teotitlan market and of course receives income from visiting tourists. The family also buys raw wool, cards it, spins it into thread, and then weaves beautiful rugs, large and small, using natural dyes. (More on this is coming up).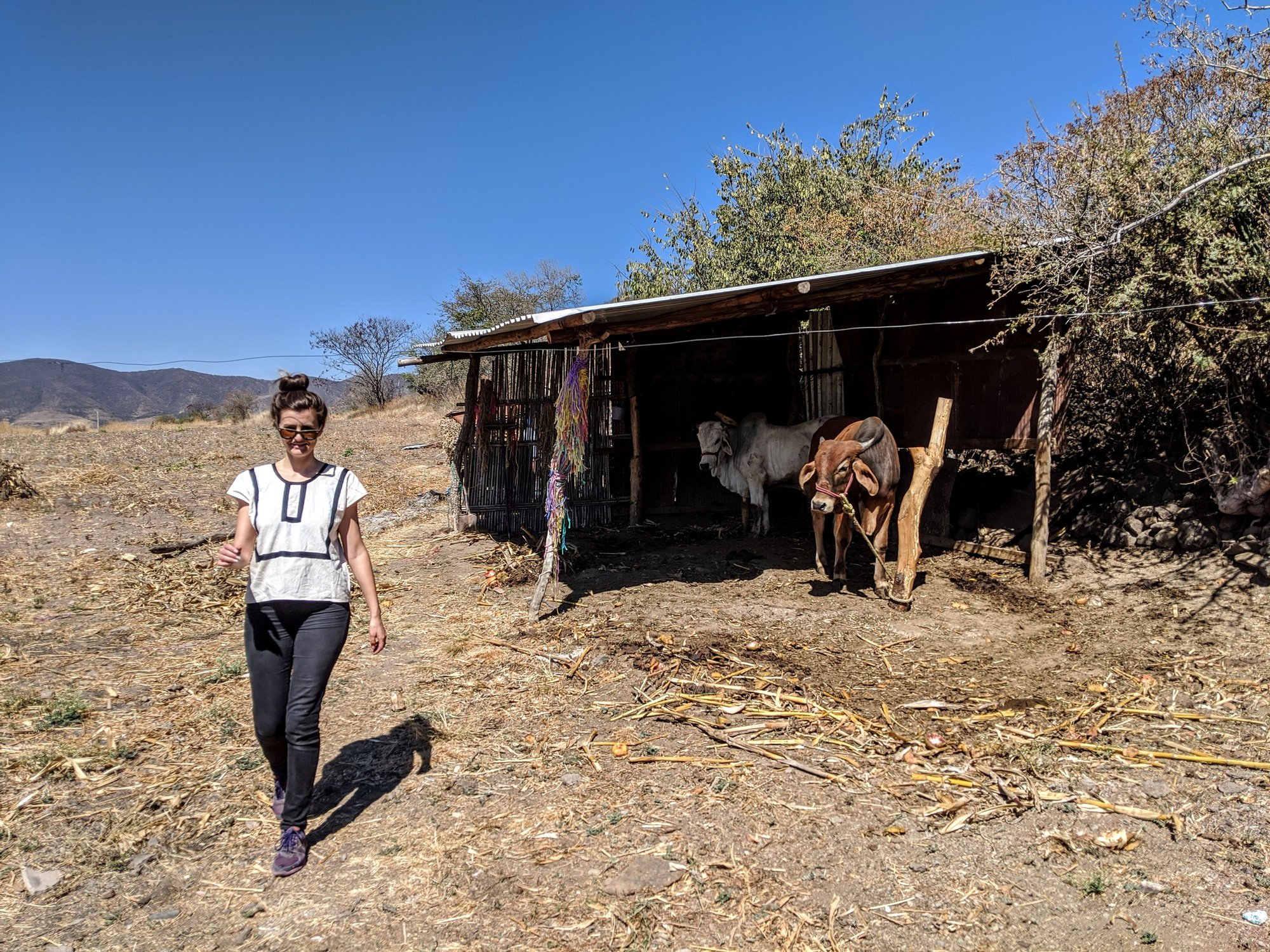 Andrea and the bulls
We began our day working to prepare our lunch. Aurora and her daughters had already done some preliminary work: they had killed a chicken and nixtamalized the raw corn. Okay, I get a gold star for remembering "nixtamalize". It is an ancient practice of the indigenous peoples: corn is soaked in lye water solution and this greatly increases the nutritional value of corn. Quoting from wikipedia: "
The divalent calcium in lime acts as a cross-linking agent for protein and polysaccharide acidic side chains." So there. But one wonders who was the first Mayan or Zapotec ages ago to think about adding lye water to corn. We shucked some of the corn just to get a feeling for the first step, then removed the kernels; these corn kernels would have to be nixtamalized before grinding. As I said, Aurora had already ground our prepared corn and transformed it into masa.
Behold: dry shucked corn
<we will take a brief pause here...Fodor's software is unhappy with me and does not want to load the next photo...we will let it rest a few minutes...>
Feb 28th, 2020, 01:46 PM
Join Date: Aug 2013
Posts: 670
Likes: 0
Received 0 Likes on 0 Posts
<continuing...>
Here I am with Aurora, holding our basket of newly shucked corn:
Aurora is proud of her corn shucking student
We then worked with Aurora on metates, grinding fresh green herbs and lettuce into a thick liquid for the green mole and toasted black beans into powder for bean soup.
Working on the metate
Then we cook the tortillas and make the quesadillas on the comal, the large, flat, circular pan, and cook the bean soup and prepare the chicken in the green mole over open fires...by this time my type A self is thinking, egad when will we ever finish this thing. But it really gives an idea of how labor intensive the traditional foods are.
Cooking the soup and heating up the comal for the tortillas and quesadillas
Finally it's all done and we sit down to a delicious lunch (it's now past 2 p.m.)--green juice, three different kinds of local mezcal, chicken in green mole sauce, tortillas, and quesadillas with stringy cheese and other things. Muy rico!! A side note: this kind of huge meal would be prepared for fiestas, not for everyday lunch. An ordinary lunch would consist of just one of these dishes.
A feast!
Next: we learn how to weave, not.
Mar 4th, 2020, 01:03 PM
Join Date: Aug 2013
Posts: 670
Likes: 0
Received 0 Likes on 0 Posts
Out in the countryside--learning to weave, not: After our big, long lunch which we had spent so much time preparing, it was time to weave. The family has a very big loom, for weaving rugs, and a smaller loom for small rugs and place mats and such. Aurora's daughter first explained the different natural dyes they used, materials such as pecan shells soaked in water, indigo, and cochineal. This last ingredient comes from a very tiny insect. It attaches itself to the flat paddle of a certain type of cactus and creates a white fuzz around its body (using very non technical terms here). You collect a bunch of these tiny things and smash them and they produce a brilliant red, which can be made fast by any acidic liquid such as lime juice.
Wool dyed with natural materials
Various dyes; looms in the background
There was another material, maybe indigo, I forget, and if different liquids were applied, different colors would be created--see below:
Cochineal was highly prized by Europeans because of the deep red, valued for royal and church garments. Cochineal exports from Oaxaca and other regions to Europe produced enormous wealth. In the early 1700s, cochineal production reached many thousands of pounds annually. This is hard to believe, given the tiny size of the little bug.
Now it's time to weave. I was coaxed into working the big loom. I had to stand on two pedals; pushing one of them pushed one set of threads up (was this the warp? the woof? who knows) and then pushing down on the other pedal reversed them. You had to thread the wooden thingy with the horizontal thread through the opening and pull it all the way across and then pull a broad wooden pole toward you as hard as you could, bang. Incredibly awkward. But these weavers do this quickly and smoothly to produce incredibly beautiful rugs.
Sort of weaving
Mar 5th, 2020, 03:50 AM
Join Date: Aug 2013
Posts: 670
Likes: 0
Received 0 Likes on 0 Posts
We are cleansed: at the end of this fascinating day on the farm, Aurora performed a Zapotec cleansing ceremony for us, and on us. Copal incense was burned. Copal is a resin from the copal tree. The resin is dried and then burned to produce a sacred smoke. It smells good to me. Copal incense is similar to frankincense. The wood is used to make alebrijes, the brightly painted, surrealistic animal sculptures now so popular. An uncooked egg is rubbed all over the body. (Note to users: Aurora says it's important to use the rounder bottom of the egg, not the pointed top.) A bundle of herbs is also rubbed over the body.
Aurora cleanses me
In the photo you can see the copal at the bottom left, and the egg being rubbed on my head. In the background is a family altar display. The madonna in the upper left is the Virgen de Juquila. Other important madonnas in Mexico are the Virgen de Soledad (she has a beautiful church in the city of Oaxaca) and of course the Virgen de Guadalupe.
Mar 10th, 2020, 02:30 PM
Join Date: Aug 2013
Posts: 670
Likes: 0
Received 0 Likes on 0 Posts
Oaxacan museums: the city has so many excellent museums, many of them in restored or rearranged colonial buildings. One block from our hotel, on Independencia, is the Museo de los Pintores Oaxaquenos, MAPO. The building was constructed in the 17th century as a church school for girls who could not otherwise find schooling either because of poverty or because they were from indigenous families. This building, as was the case with most church properties, was nationalized by the Juarez government in the 1860s. Today the different spaces host rotating exhibits of sculpture and painting.
MAPO - the central courtyard, with the far stairway entrance showing the mudejar Moorish-Spanish influence which often marks Oaxacan colonial buildings. The golden sparkles are part of a sculpture suspended over the courtyard.
Several of the gallery spaces exhibited the work of Rosendo Pinacho, an artist born in the early 1970s and deeply influenced by the two great Oaxacan artists of the 20th century, Rufino Tamayo and Francisco Toledo.
Rosendo Pinacho gallery
Rosendo Pinacho, Tarde Luminoso (Bright Afternoon), 2019
A favorite museum of mine is the Museo Textil. It is located in a building whose origins go back to the very beginning of the city in the 1520s. The land was part of the orchard of the Dominican monastery of Santo Domingo. In the 18th century part of the land was sold to a wealthy Oaxacan merchant who made a fortune exporting cochineal to Europe (we have already met the little cochineal bug on Aurora's farm, learning how it produced an intense red dye). He built the mansion which today houses the Textile Museum.
Courtyard of the Textile Museum
A contemporary work in the Textile Museum
Next door to the Textile Museum is the Centro Cultural San Pablo. This beautiful building complex was a monastery dedicated to San Pablo. It was built in the mid-1500s (and rebuilt in the early 1600s following an eaarthquake) on the same large plot of land that was originally the orchard of the Santo Domingo monastery. Today the monastery complex exhibits sculpture, painting, and hosts cultural events.
The building has a "clunky, chunky" look, typical of what is commonly called "Oaxacan Earthquake Baroque" -- thick columns, only two stories high, lots of reinforcing walls. The central courtyard has a marvelous statue of a spider (?) and a large, abstract sculpture on the far wall.
Central courtyard of the Centro Cultural San Pablo
Wandering through the many rooms of the monastery provides way too much stimulation for an amateur photographer--beautiful stonework, lots of vistas, bits and pieces of the original monastery frescoes...
Exhibition in the San Pablo Cultural Center of the work of the Italian photographer Massimo Listri
Vistas....
More vistas........
Wood + stone + plant
Some of the original monastery frescoes
Water + stone
A beautiful small courtyard, tucked away in the back of the monastery complex
And now, time for a well-earned coffee and cookie break in the Cafe Brujula, overlooking the courtyard of the Cultural Center.
Relaxing in the Cafe Brujula overlooking the Cultural Center
Apr 13th, 2020, 06:08 PM
Join Date: Oct 2011
Posts: 973
Likes: 0
Received 0 Likes on 0 Posts
I LOVE all of your photos! Thank you for these. I am hoping that COVID will not prevent me from my planned trip to Mexico for Dia de Los Muertos in late Oct. and Nov. 2020. I especially can't wait for Oaxaca City where I plan to be for actual Day of the Dead.
Apr 14th, 2020, 09:37 AM
Join Date: Aug 2013
Posts: 670
Likes: 0
Received 0 Likes on 0 Posts
Thanks MinnBeef, I have a lot more photos and words to post but covid hit, life got strange (thankfully we are safe and healthy but being very cautious), so I ran into a mental roadblock. But shall get back on track soon and post more...