Edinburgh Trip Report July 2019
Jan 6th, 2020, 06:24 PM
Join Date: Jun 2005
Posts: 101
Edinburgh Trip Report July 2019
---
Hi all,
I've been scouring this forum for information and tips regarding my next trip to Europe and I find Trip Reports very helpful. Logistics, authentic opinions, hiccups all are helpful to me, so I am finally posting a report of our couple of days in Edinburgh and St. Andrew's.
Wednesday
Took the morning train from London St Pancras
International to Edinburgh. We had bought our tickets months in advance and received a discount for group travel (there were five of us.) The station in London is large and was a touch confusing but easy enough to figure out. We had given ourselves an extra 45 minutes and I'm glad we did. It was a g
orgeous ride up the east coast. Some of my personal favorite pictures are from this ride: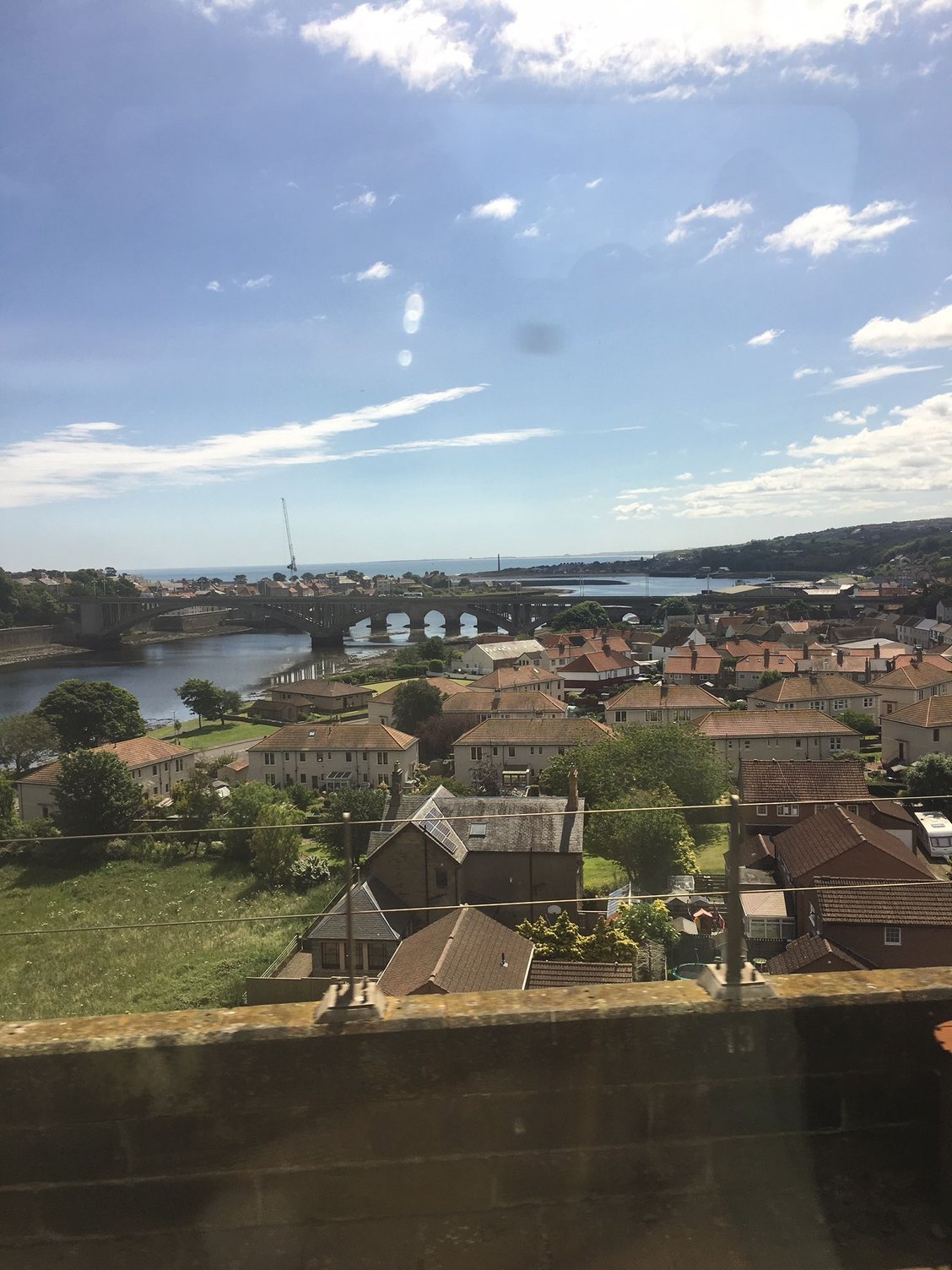 Walked from the Edinburgh train station to our AirBnB on Canongate. Canongate is the quiet end of the Royal Mile. Across from Cadenheads, it was a touch out of the way. While it was nice to be away from the really touristy parts of the Royal Mile, I really liked the area by Victoria Street and New Town for a nice mix of cute vibrant restaurants and shops, and might stay that way next time. We were so tired from walking and touring during the day, that it would've been nice to have been closer to pubs and bars for the evening -- just a couple blocks closer would've done it.
After checking in, we went to a quick Mexican lunch at Pancho Villas. I know it sounds crazy to stop for Mexican coming from California, but it was just what we needed after 5 days of London pubs. The Queen's Garden Party was happening at Holyrod Palace so lots of Scots all dressed up with women in hats walked down Canongate past our restaurant to the Palace.
We then walked to Edinburgh Castle for a 3:30 entry and were amazed! We had a great tour guide and loved the views. Seeing the Crown Jewels and the room where Mary Queen of Scot held a ball upon her return to Scotland was moving. The castle was one of our highlights.
Afterward, we shopped down Victoria Street and went to Greyfriars Bobbys pub in Candlemaker Row then Greyfriars Kirkyard. We had read about Greyfriars and the legend of
Greyfriars Bobby, a Skye Terrier who became known in 19th-century Edinburgh for spending 14 years guarding the grave of his owner until he died himself back in 1872.
The kids loved seeing the gravestones at the kirkyard that inspired JK Rowling. We saw the
grave of Thomas Riddell and a few others. Here are the detailed directions for any Harry Potter fans:
https://www.travelpulse.com/news/fea...ry-potter.html
As luck would have it, we caught a youth choir concert at the little church on site, which was a great way to sit and relax for an hour. It had been recommended to us to take a Ghost Tour so off we met. Meeting our guide about 8:30 p.m., we followed her to some tunnels under the city. She was a wonderful actress! The Ghost Tour comprised a handful of eery legends about meaningless people who once lived in Edinburgh.
I thought the tour was going to be about some of the popular historical murders, witches and such — the stabbing of David Rizzio, the murder of Lord Darnley, the Great Scottish Witch Hunt, etc. There are so many true horrific stories.
It wasn't at all what we expected but an amusing way to kill a couple hours in the evening. As in London, it was difficult to find dinner served after 10:00 p.m. We landed at an Indian and Thai restaurant called Shamoli, which was delicious.
Thursday
On Thursday morning, we walked to Dean Village and then did part of the Waterway of Leith Walk. It was a beautiful walk. We stopped in Stockbridge for lunch (LOVED!) Toss up between this walk and Edinburgh Castle as my favorite!
We could've walked all the way to the sea but stopped at the Royal Botanical Gardens. This was another place we could've spent hours. After wandering for about an hour, it started to drizzle. I had seen on their map that there was a little coffee shop near the East Gate exit closest to our apartment. We beelined over there but unfortunately, there was not a covered patio or dining room. So we ordered coffees but then left for shopping in New Town. The Terrace Restaurant on the other side of the garden looks lovely. And the Gateway Restaurant serves afternoon tea.
With daughters in their 20s, I am always on the lookout for cute shops that have items not available in the U.S. We found a U.K.-based store and a Zara that my girls found lots of items in, so all-in-all it was successful! While we were shopping, my husband and son went to Cadenheads on Canongate for a 5:45pm whisky tasting and they both loved it! Very knowledgeable place, great group — they spent two hours there and highly recommend! It was a highlight for both of them. After regrouping at the apartment, we ventured out looking for dinner. I had done soooo much research, but for some reason, I didn't have a place for dinner in mind. Byron Proper Burger was on a list of recommendations from a friend so we gave it a try. It is Edinburgh's version of an American hamburger joint. It didn't feel super Scottish but had wonderful service, good food and milkshakes!
Friday
We went to St Andrew's on Friday. It was about a 45-minute train ride, then a switch to a bus into St. Andrew's. My son is a huge golfer so this was a big day for him. We played the Himalayas putting course, had lunch at Swilican Lounge (tried Haggis), watched golfers, bought fun souvenirs in the pro shops and walked the beach. I didn't push the "walking tour" of the course because we were all a bit "walked out" but it sounded interesting.
Again, I didn't have my pub recommendations with me. (No sense in me doing all of this research when I don't have a good system to use what I learn!) I knew of the North Point Cafe where William and Kate had their first date. We went for coffee, tea, and dessert. It was only okay, and I'm sure there are other cuter better cafes I'd visit next time. Our day trip was topped off with exploring the Castle ruins and coastline — absolutely gorgeous. Coming from California, age and history is mind-boggling! We caught the train back to Edinburgh just as the rain started.
Back in Edinburgh, after a short rest and change of clothes, we walked to The Devils Advocate for drinks. They had a fantastic dinner menu but we did not stay for dinner. (Kids wanted pizza!) Turned in a bit early as we had a 7:30 am train to catch the next morning.
We loved this beautiful city. While we didn't quite have the time to do it justice, I am very glad we went. I'm not sure I would've ever gone to Scotland otherwise. It wasn't on my list but with my son who is a huge golfer, I felt it a must-see for him. We could've spent more time (with better weather) in St. Andrew's and one more day in Edinburgh to leisurely visit the Grassmarket, walk Calton Hill or Arthur's Seat, and explore New Town a bit more. Lots to see and hope to return someday!
Jan 10th, 2020, 12:30 AM
Join Date: Jun 2005
Posts: 101
Oh yes
janisj
! And maybe that was my confusion that day. The uber dropped us off but there were a couple stations side by side. It took us a bit to get our bearings.
Can someone please tell me how to include smaller images? Mine are huge!
Jan 16th, 2020, 09:00 AM
Join Date: Apr 2007
Posts: 244
Great report! My plans for travel are Japan in 2021 and Scotland in 2022, but every time I read a new report about a new place I shuffle the prioritization of my bucket list! I've read so many good things and seen so many beautiful pictures of Scotland; I can't wait to go!

If you're just uploading photos straight from your camera, you may need to go into a photo editing program and resize them. I use Lightroom and I believe my setting for medium-size pictures is 750 pixels for the long edge of a landscape-oriented photo.
Jan 17th, 2020, 02:14 PM
Join Date: Oct 2003
Posts: 3,473
I just have to say, I always eat at
Pancho Villas when I'm in Edinburgh. I rent a flat in the courtyard there. I think for Mexican food it's very good. I'm going back in a few months so your trip report has me excited. I would like to walk more of Dean Village.
Jan 17th, 2020, 11:42 PM
Join Date: Oct 2005
Posts: 66,424
Pancho Villa's is no more . . . it closed back in August.