My Dangerous Days in Pakistan
Apr 3rd, 2019, 07:36 AM
Join Date: Jul 2004
Posts: 3,014
Loving this trip report (a reader could get used to it!). Thanks for sharing.
Years ago Pakistan was on my list for trekking but it never happened and now is highly unlikely.

I had to look up Multan Pottery, beautiful work. We bought a small piece in similar style home from Rajasthan years ago, but it's probably not officially Multan.

Looking forward to the next episode.
Apr 4th, 2019, 01:10 AM
Join Date: Nov 2006
Posts: 2,594
3.000 Years of History in 6 Hours
Originally I had thought Peshawar would make for a wonderful, if long, day trip from Islamabad, but common sense prevailed and I scaled back this day's plan to Wah Gardens and Taxila.
You know the morning drill. The daytime head housekeeper asked if I might have laundry again (I did). DH procured his omelet and I, something called "Emperors Chicken" (glossy chunks of chicken basking in a gravy thick with smoky Kashmiri chiles) and a healthy serving of Fattoush.
Along the Grand Trunk branch of the Silk Road today Zulfiqar and I went first to Wah and the ruined gardens created by Mughal Emperor Akbar the Great. For many years the elaborate gardens were abandoned, but now the Pakistani Department of Archaeology has taken them over and begun restoration. Once again I piqued the curiosities of the locals; the gardener actually stopped mowing to stare at me. (Several of the guys in this photo followed me around the garden thinking they were cleverly sneaking photos of me. Eventually I turned the tables on them.
)
Leaving Wah Zulfiqar pointed out to me the Wah Bazaar, but lamented that not even he could go in easily, the reason being that after the 2016 suicide attacks in the Wah region, the local government declared the bazaar open only to residents of Wah. All other Pakistanis who might want to go to the bazaar are required to obtain an NOC, and it's just not worth the hassle.
From Wah to Taxila, home to Buddhist ruins that date from the 1st century BC. Now a UNESCO Heritage Site, the ruins are scattered across the Indus Valley. As much fun as it might seem to drive around the valley and photograph these piles of rocks, I opted instead to examine the relics unearthed at these sites by the British in 1913 at the convenient Taxila Museum, which I found pleasantly well-organized. A couple of oddities, one being the unlabeled woman in a box among an otherwise breathtaking collection.
A modern history stop to view the origins of
PimpMyRide
, Pakistani truck painting (Zulfiqar said that I was the first client who has ever wanted to learn about this nearly century-old tradition; let me just write that I also turned quite a few heads when I alit from his car). What began as a way to distinguish the British-imported Bedford trucks in order to attract business has now become a competition--the more elaborately painted truck, the better the business will be is the belief. Impressively a truck can be hand-painted by three guys in just one day! The following day, the reflective stickers and other bling are added. This too is now part of Pakistan's intangible cultural heritage and is making a comeback.
It was not just the sights themselves that fascinated me on this outing. Along today's modern Silk Road traffic is more of a concept, the lines between motorway and footpath blurred. Travelers come and go on foot and by horse-cart; by bicycles electric and pedal-powered, all under the watchful eyes of the roadside Pakistani Army (following the 2016 suicide attacks near Wah) and the ever-hilarious Pepsi-sponsored Police Checkpoints.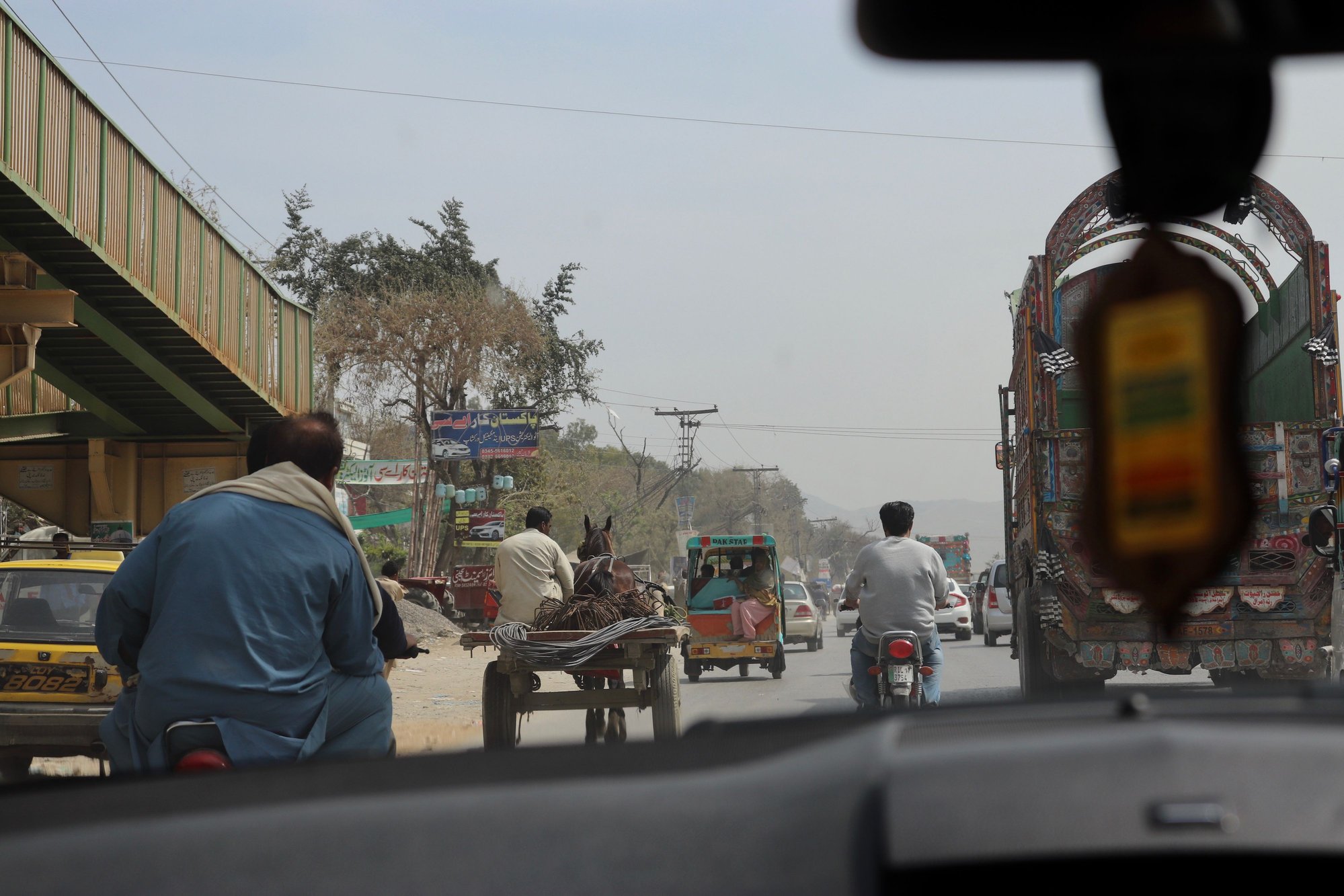 A late room service light lunch of a delicious Mezze plate followed my return to the Serena. Dinner this evening would
not
be at
Dawat
; DH and I had a reception to attend where, it turned out, nearly everyone attending the week's meetings wanted to hear every detail of my holiday. DH had not been joking when he told me he was asked each morning about my holiday well-being! The staff even arranged for another spouse to join the reception, specifically placing our name cards together so that I might have a female companion for the evening.
I need not write that our meal was exceptional, but for the food lovers out there I shall continue. Pakistani Tikka Barbeque and Seekh Kebab was served atop a most heavenly cardamom-scented pilau; with cold and chunky raita, hot naan and bowls of Kachumbar, a Pakistani chopped salad along side. Rounding out this presentation was that
dangerous
hospitality. No sooner had a piece of smoky BBQ or spiced kebab been eaten than another one appeared, and I was quite glad I had had a small lunch. To end this feast, silver bowls of
Kheer
, so unlike Indian rice pudding that it is hard to believe the two desserts are related. Kashmiri Chai was served with the Kheer; it, too, being nothing like what one thinks of Chai. Gunpowder tea is boiled to release its chlorophyll; to this baking soda is added, which reacts with the chlorophyll and turns the tea
pink
. One completes the tea with a pinch of salt, along with a spoonful of chopped almonds and pistachios. The Chai was spectacular.
Back at the Serena, the bottled water was on the table and the bed was turned down. One more glance across Islamabad through the window before drawing the drapery. In the morning, shopping!
Apr 4th, 2019, 05:32 AM
Join Date: Jul 2003
Posts: 9,827
Very good TR. Thank you for taking the time and effort to bring your experience in a country we seldom hear about to us here. I must say it's an eye opener. My wife is Indian and what I hear about Pakistan from our Indian friends is quite different though it's derived from a tumultuous past and the Sabre rattling issues over Kashmir at present.

Sorry about your sub par experience on Turkish. It sounds like courtesy went out the window on that one.
Apr 4th, 2019, 06:20 AM
Join Date: Feb 2006
Posts: 25,561
Still enjoying this! Pity about Peshawar, but probably wise, I missed out on it too.

Sounds like lots of lovely food! But when you say "Indian rice pudding" do you mean as in India, or as in an Indian restaurant? I don't know about Vienna, but in the UK a lot of "Indian" restaurants are actually run by Pakistanis. Where I now live in the US there are quite a few run by south Indians, although we have a few Nepali as well.
Apr 4th, 2019, 10:50 PM
Join Date: Nov 2006
Posts: 2,594
thursdaysd, hmm. The Indian (restaurant pudding) I have eaten is presented as whole grains of rice and usually infused with cardamom and sometimes rose water. The rice pudding I ate in Pakistan had ground rice along with whole grains, and was lightly perfumed with pandan, at least that is what my female dinner companion told me.

kathie, the food was incredible. I ordered a Pakistani cookbook and it arrived yesterday--I can not wait to play in the kitchen now!

jacketwatch, glad you're enjoying the report.
Apr 5th, 2019, 07:14 AM
Join Date: Nov 2006
Posts: 2,594
One Final Day in Pakistan. And, Going Home.
Rawalpindi. If this shopping Mecca does not carry it, then you do not need it. My driver brought along his female assistant today, Faiza. As he explained, "The ladies shop. I park the car and carry the packages." Zulfiqar gets it.
But first I needed to procure Rupees from the Bankomat,
in case
I might find a rug. The Bankomat at the Serena was a non-starter, so Zulfiqar drove over to the Marriott and its
two
Bankomat machines. Armed with my and DH's Austrian Bankomat cards, DH's Austrian Visa (remember, mine was back in Vienna with DD) and our American CitiBank Mastercard I boldly attempted to withdraw 80.000 Rupees.
Sigh
. Neither of the machines spoke, "Give this rug-purchasing woman your cash." Out of desperation I tried one of the machines again, this time extracting multiples of 20.000 Rupees. Success!
The drive to Rawalpindi was unremarkable with its traffic and dust and car horns. Faiza and I had struck up a conversation of the same questions I had been answering all week; mostly, though, she seemed very excited to have a Western client who wanted to shop.
Zulfiqar wove his Benz down a couple of lanes that I would have been scared to ride my bicycle down, depositing us first in Pashmina Heaven. Imagine your living room walls filled floor to ceiling with Pashminas. Now, multiply that room by several hundred, and I dare you to leave Pakistan without many, many of these beautiful shawls. I certainly did not.
Next, Zulfiqar took us to the carpet district. Afghani carpet stores were like forests, the soft wool (not to mention the heavenly aromas) shushing out the noises from the street. Though I came armed with piles of Rupees, alas, that magic carpet eluded me.* I am a Kilim-kind-of-gal, and could not find the love for the plush and gorgeous Afghani carpets that were in every shop.
An intermittent stop for luscious almond-stuffed dates and assorted dried fruit to bring home. DD squirreled away an entire package of dates when I returned home because, as she said, "I am an athlete. This is power food." Kids these days.
The final stop was in the jewelry district. Now DH, over his previous visits to Pakistan has brought home to me (and DD) several stunning bracelets and earrings, but never any rings because of the sizing issue. As I was in Pakistan in person, I remedied that little matter. DD as well had given me a "Claire's" ring that she hoped might become substantially upgraded. I remedied that matter for her, as well.
Late afternoon approaching, yet on the streets of Rawalpindi, everything goes. Men walking monkeys; and men selling sparrows. Men grilling Chicken Boti, which the wise Zulfiqar brought to we tired ladies to nosh in the back of the Benz, and even men who will deliver Golgapa right to your car! Almost culinarily mind-blowing.
*A funny thing happened on the way to dinner on this final evening...
...I was lamenting having extracted a tall stack of Rupees from the bank machine and not having found a carpet, when DH suggested we just "take a look" at a carpet store adjacent to the hotel. Oh. I swooned over the selection of Persian Kilims, but set my expectations accordingly given that the carpet shop was near to the hotel.
Dusting off my haggling skills from my Marrakesh trip a couple of years ago, I dove in. Kilim after kilim was unfolded before me, every one with a story of the toil and tears that were woven into each square meter. Eventually I had my choice narrowed, and the haggling began. When all was said and done, a blood red and dark blue beauty was folded, wrapped and prepared for travel. As I write, it is resting most comfortably on our living room floor. Oh, and I even had Rupees leftover.
That evening DH and I were too tired and too uninterested for a sit-down dinner following our carpet escapade. We retreated to our room, showered and rang room service for…burgers. Hey, the burgers were delicious!
I needed to depart the following morning (DH would remain one more day), and the hotel staff suggested an 0300 shuttle for an 0630 flight. Yikes. I groused a bit and requested the 0400 shuttle. At Oh Dark Thirty I awoke and prepared for the flight home. By 0420 I was at the airport, where
exactly one flight was departing—mine
. In my bleary state I wandered into the "Men's" security check-in queue before the shouting and hand-gesturing alerted me to the "Women's" queue. Once through security I attempted to purchase a coffee, a bottled water, and a toasted Chicken Tikka sandwich from one of the
two
stands at the airport.
Guess what. I had left the remaining Rupees with DH, so I only had my Bankomat card with me (
remember, my Visa was with DD in Vienna)
. Neither snack stand at the new-and-improved
Islamabad International Airport
accepted Bankomat. Only Visa or Mastercard. I was thus cashless and starving.
So what is a gal to do? I started crying, of course. It was 0430 in the morning and I had neither food nor water. The kindly snack stand operator handed me a bottle of water and I thanked him and walked away, settling into a sofa and bemoaning my first world fate.
Moments later, a Pakistani woman placed the small Chicken Tikka sandwich before me. She said,
"I know. It's just not easy in this country sometimes."
I laughed, thanked her for her
dangerous hospitality
and we chatted before it was time to catch our flight to Istanbul
.
My savior connected on to London, while I boarded my flight to Vienna. On the flight home breakfast was served: an awful egg and spinach creation. (I had opted for Economy Class since DH was not with me, selecting a comfy bulkhead seat for the long haul). As it goes I am allergic to eggs, and asked if I might have a piece of fruit or something else. The Turkish Airlines crew rejected my request with a, "No." Several minutes later I asked if I might have a roll, as I was feeling ill from not eating. "No" was again the response.
With about 30 minutes remaining on the flight, I approached the galley crew and asked if I might have either a piece of fruit or a roll (from the Business class menu that I could see), as I was feeling rather ill. "No" was the response. A few moments later I fell ill. Only then did the crew offer a roll.
Too late.
Soon I was landing in Vienna. Immigration and baggage claim was a snap, and I was home in no time. All is well that ends well.
Thank you for reading.
---
Last edited by fourfortravel; Apr 5th, 2019 at

07:27 AM

.
Apr 5th, 2019, 12:52 PM
Join Date: Feb 2006
Posts: 25,561
Love Zulfiqar's comment, except I'm female and I hate to shop. However, I do still regret the beautiful silk rug I didn't buy in Kashgar. (That was before I stopped buying souvenirs altogether and settled for photos.)

Glad you had such a good time in Pakistan (more Asia on the cards?), but sorry the trip back was so bad. I have border-line hypoglycemia, they would have had to feed me!
Apr 5th, 2019, 03:38 PM
Join Date: Sep 2012
Posts: 2,415
Sounds like you found yourself the ultimate souvenir of your trip.

I cannot believe the service on Turkish is so horrible. I've only taken a handful of short-haul flights with them and they were more or less like domestic flights in U.S. with the addition of IFEs.
Apr 6th, 2019, 08:19 AM
Join Date: Nov 2006
Posts: 2,594
Thank you, everyone, for your comments; and I hope you enjoyed my little dip into Pakistan.
Regarding the Turkish Airlines service, DH grumbled that even in Business Class the flight crew seemed a bit surly on his return (oh, and the food was not improved). I will just leave it as Turkish Airlines did not win either of us over.
As for shopping, I am a Marie Kondo kind of shopper. Items have to bring me
extreme
joy before I will purchase them. The Persian Kilim brought me
extreme
joy.